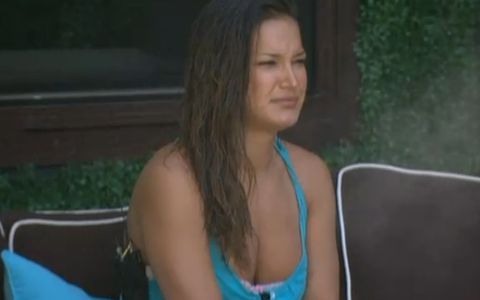 It's time for more "Fun with Jessie!" on Big Brother 15. She knows her time is short in the house and she's promised to go out with a bang. After last night's fights she's back at it today with verbal attacks on Amanda, Elissa, Helen, Aaryn, and probably others that I just didn't catch. It was a petty, but entertaining afternoon in the BB15 house.
Sign up for the live feeds and start watching the fun. You get a 2-day free trial then it's $9.99 for the entire month. It's cheaper than a movie ticket & lasts 300+ times longer!
Flashback to 1:23PM BBT as Jessie sits alone on the backyard couch smoking. She starts off calling across the yard to Aaryn that Elissa has been calling her, Amanda, and Kaitlin "basically skanks and sluts." Jessie adds, "she talks about how you all are disgusting all the time." Aaryn is ignoring most of it but finally begins to engage her taunts by shouting back and telling her how she's wrong about this or that.
click image to see full-size
A few mins later McCranda come out (1:32PM BBT) and listen in as Jessie turns her insults on Amanda. Amanda takes the attacks but then asks Jessie why she's doing this. "Get involved if you want, but I suggest you don't," said Jessie to Amanda. After a few more jabs from Jessie Amanda whispers to her, "don't go out like this." Jessie tells her, "this is part of my game. F**k everybody… No, seriously. F**k all of y'all."
Jessie next takes aim at Elissa. She begins referring to Elissa as "Rachel's Shadow" and Aaryn as an Oompa Loompa and then Barney because Aaryn has a purple bathing suit. Yeah, it's weak stuff. Spencer later calls it a "PG-13" meltdown while we need a R-rated one. Flashback to 2:16PM BBT to hear her start in on Elissa with hits like "Rachel's Shadow, who got fake boobs first? You or your sister? Cause you're older right? You're like 35?" Then "How's it feel to not be half the player your sister was?"
As if hurling insults that would embarrass an 11-year old wasn't enough, Jessie decides to up her game by laying down to tan right next to Elissa. Then she scoots as close to her as possible without touching her. Yeah, while it's entertaining on a childish level it's a little disappointing overall. The other HGs make fun of how sad her attempt at all of this is. Flashback to 2:38 PM BBT to listen as McCrae, Spencer, and Andy laugh about her antics over the past day.
So yes, Jessie is definitely going. Andy has said she thinks it'll be a tie and he'll save her, but I think it's much more likely that she knows very well that she's going next.