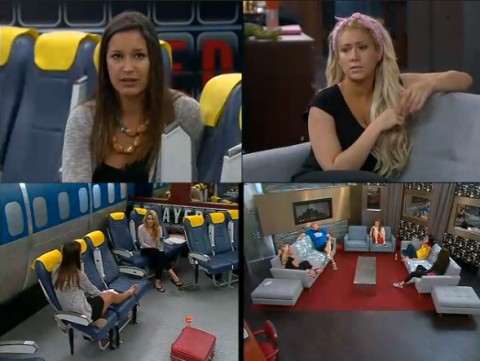 Amanda and Helen's paranoia came to fruition in the Big Brother 15 house as Helen forced Aaryn to put up Judd so the house could blindside him. So a lot of the night afterward was a lot of guilt and tears for what they all did to Judd. Not even one pity vote to one of the best personalities of the season. We also got to find out who the brand new HOH is. And it's not exactly who you'd expect.
Read about those moments and others on our Live Feed highlights below. And remember to sign-up now for the Big Brother Feeds so you can watch any of these moments by using the Flashback archive feature.
Big Brother 15 Live Feed Highlights – Thursday, Aug. 7, 2013
7:04 PM BBT – Feeds return after the live show. Everyone seems upset that they just back-stabbed Judd and sent him out without any of his belongings.

7:07 PM BBT – Helen is telling Aaryn and the others they made a fantastic move getting Judd out. Helen keeps blabbing on and on and on.

7:15 PM BBT – They're all still mourning Judd like he was taken from them and not like they just sent him out the door.

7:24 PM BBT – GinaMarie is defending why she had to stand up to Candice tonight on live television. No one seems to care that she made an awful jab about Candice being adopted on live television.

7:28 PM BBT – Amanda got Judd out so now she starts talking about him coming back into the game. This will likely be her new obsession/thing to be paranoid about.

7:30 PM BBT – Amanda thanks Aaryn for doing what she did and swears she'll never doubt her again. She says their final four with McCrae and Andy is solid.

7:34 PM BBT – Spencer tells GinaMarie to never speak of the "Grasshopper" alliance being real because that's one of the things that sent Judd home. Everyone thought he made it up.

7:51 PM BBT – Helen says this is probably the best season of Big Brother ever. Hmm. Doubtful.

8:00 PM BBT – Aaryn calls Candice racist. No, really. She did. I promise. Can't make this stuff up.

8:40 PM BBT – Feeds cut for the next Head of Household competition.

10:01 PM BBT – Feeds return. Andy wearing HOH key. Amanda is upset and crying because she lost another competition. She's yelling at McCrae because he apparently knocked her out of the competition.

10:03 PM BBT – Aaryn, Helen, Elissa and GinaMarie volunteered to be have-nots so Andy wouldn't have to pick.

10:10 PM BBT – Amanda is still upset and says she feels like a sore loser.

10:30 PM BBT – Andy tells Amanda he will put up Jessie and Spencer and will promise Spencer he is not going home. He's afraid to put anyone else up against her because she might not go home.

11:00 PM BBT – Andy and McCrae are both crying about Judd being gone. These people are so confusing.

11:15 PM BBT – Aaryn and others going through her HOH basket.

11:25 PM BBT – GinaMarie says Candice did not leave with any class.

12:10 AM BBT – HGs discussing who could get voted back in. Aaryn doesn't think Candice has a shot after her blow-up tonight.

12:50 AM BBT – Andy gets his HoH room.

1:15 AM BBT – The backyard is open again. HGs get alcohol.

2:40 AM BBT – HGs discussing the first eviction and what GinaMarie said to Candice about being adopted and her mom not wanting her. They agree it wasn't funny.

2:45 AM BBT – Jessie asks Elissa if she should be worried about nominations. Elissa says Andy will talk to the house and follow what they want.

3:05 AM BBT – Helen, GinaMarie, Elissa, and Aaryn discussing whether or not Spencer should go before Jessie.

3:15 AM BBT – Judd's final two dealings being out'd by Elissa, Aaryn, & GM.

3:25 AM BBT – Aaryn promises GinaMarie she'll be safe this week and Jessie is the target.
So now that Judd is out, it will be interesting to see which of their allies Helen and Amanda become obsessed with getting out next. I'm going to predict Elissa! But for this week it looks like Andy will go the easy route and target Jessie. Unless Helen or Amanda tell him otherwise.
You can watch all of these Big Brother 15 events using the archives flashback, the DVR-like feature of this year's Live Feeds which means it's always live, even when you missed it! Sign-up now to get the free trial to watch it all live & uncensored.
click images to see full-size