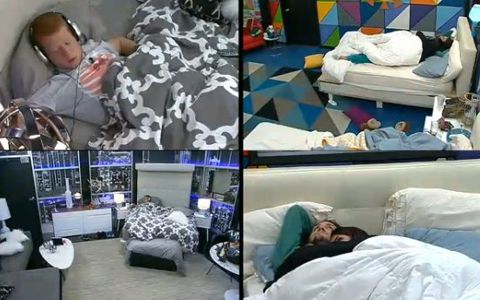 Saturday was a slow day in the house for the Big Brother 15 HGs. No MVP reveal this week gave them one less thing to worry about and more time to sleep so that's what they did. The Veto competition arrived very late and resulted in a snoozer of an outcome. Fingers crossed that this week picks up or we'll be waiting for Thursday for more fun.
Read about those moments and others on our Live Feed highlights below. And remember to sign-up now for the Big Brother Feeds so you can watch any of these moments by using the Flashback archive feature.
Big Brother 15 Live Feed Highlights –  Saturday, Aug. 10, 2013
10:00 AM BBT – HGs slowly starting to get up. McCrae and Amanda hanging out in the kitchen.

10:45 AM BBT – Andy and Jessie talking game. He promises her she's safe and is going to reveal his plan after the Veto competition. He's lying to her.

12:45 PM BBT – Feeds return. Veto players picked are Amanda, Elissa, & Helen. McCrae will host.

12:50 PM BBT – Andy talking with Helen & Elissa and say next week is the time to make a move, but not now.

1:05 PM BBT – McCrae says as a BB fan he likes the all-new cast season. He doesn't think they'll do another All-Stars.

1:20 PM BBT – Spencer talking with GM in HN room. He thinks someone could be listening so she drops to the ground and checks the door. Spencer looks straight at the camera and slowly shakes his head. Funny moment. They talk about Judd leaving for their Grasshopper alliance that everyone thinks was a lie.

1:30 PM BBT – Andy talking game with Aaryn. He tells her GM will go home if Jessie wins the Veto. Andy thinks Helen would target McCranda if she got HoH.

2:30 PM BBT- McCranda & Andy talking about Spencer vs. Jessie options. Amanda is more worried about Spencer because he's a wild card while Jessie would follow a lead and do as told. Andy sticks to wanting Jessie out.

4:25 PM BBT – It's a rap battle. GM, Aaryn, and Amanda trying to rap.

5:30 PM BBT – Elissa suggests to Jessie to go for prizes at the Veto since Andy said she was safe.

5:40 PM BBT – Elissa retelling more of what GM said as Candice was being evicted. GM commented on her picture turning to her color and they discuss GM's comment about Candice being adopted.

6:00 PM BBT – HGs anxiously awaiting Veto comp when McCrae, the comp host, is called to the DR. Everyone gets excited, but he's sleeping and Amanda doesn't want to wake him since he gets grumpy at whoever wakes him up. GM takes care of it. He sloth's his way to the DR.

8:25 PM BBT – Feeds return. Andy is wearing the Veto medallion and has won the PoV this week.

8:45 PM BBT – Jessie hopes that since Spencer did well he'll be in more danger of eviction. Aaryn coaches Jessie to avoid threatening anyone and to say she'll do whatever they want to stay.

9:10 PM BBT – Aaryn goes to Andy and says Jessie wants to put up McCranda so she needs to go. Aaryn thinks Spencer would go after Elissa and Helen so they should keep him instead. Andy agrees but can't decide who should go and he wants a blindside so he's going to assure both Jessie and Spencer that they're safe.

9:25 PM BBT – McC tells Amanda to be careful with her insensitive jokes since she does it in front of people it would offend. He gets pissed off and leaves the tub they were sharing.

9:45 PM BBT – Amanda complaining to Elissa. Elissa tries to hint to her that someone needed to tell her, but Amanda doesn't get it. She doesn't think she's being offensive or insensitive.

10:30 PM BBT – McCrae suggests they should evict Elissa soon so she'd be the one to return if there's an America's Vote for a returning evicted HG. That's pretty smart. Dang, stop being so smart, McCrae.

11:00 PM BBT – Amanda working on Andy to get Jessie out this week. Spencer joins the HoH room and they tell him he's safe.

11:10 PM BBT – Andy points out this will be the first time this season the Veto hasn't been used.

1:30 AM BBT – Amanda wonders how she's been portrayed in the show. She says DR wants her to make bitchy sound bites.

3:00 AM BBT – Spencer and GM promise to never confirm or reveal the Grasshopper alliance was real.

4:25 AM BBT – McCranda having a little late night naughty time in their private bedroom.
So Andy holds all the power this week as both HoH and Veto winner. He says he hasn't made up his mind and is wavering on which direction to take this week's eviction. The HGs are days away from having to make that decision and there's still the Veto Ceremony between then and now.
You can watch all of these Big Brother 15 events using the archives flashback, the DVR-like feature of this year's Live Feeds which means it's always live, even when you missed it! Sign-up now to get the free trial to watch it all live & uncensored.
click images to see full-size