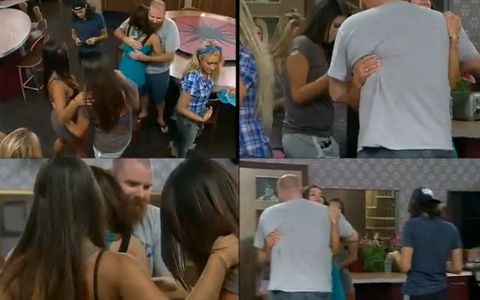 Coming down off the high of a Double Eviction the Big Brother 15 HGs prepared for the next round of nominations on Friday. There was no Have-Not competition as the new HoH picked them after the latest HoH comp. Well, they really volunteered, so even less drama this week all around. By the end of the night a new plan came up for a "big move" but I think we all know how that'll turn out.
Read about those moments and others on our Live Feed highlights below. And remember to sign-up now for the Big Brother Feeds so you can watch any of these moments by using the Flashback archive feature.
Big Brother 15 Live Feed Highlights –  Friday, Aug. 9, 2013
4:30 PM BBT – Aaryn discussing the DE competitions with Helen. Aaryn felt very confident and knew she would win the Veto. Helen was frustrated with her performance in the HoH. Said she knew the answers, but got flustered.

4:50 PM BBT – GinaMarie once again takes a jab at Candice's adoption. Stay classy, GM. [Update: I've received several concerned questions asking if this comment for GM to "stay classy" was a joke. Yes, this is obviously a sarcastic joke.]

6:24 PM BBT – Feeds return from the Nomination Ceremony. Jessie and Spencer are on the block. Hugs all around.

6:30 PM BBT – McCranda discuss Helen needing to go next week.

6:55 PM BBT – HGs worry Judd will be an angry juror. He requested all his belongings and all of his cigarettes.

7:05 PM BBT – Aaryn pointing out there are few HGs she could be up against and survive. She wants Spencer out this week, but Amanda doesn't want that.

7:30 PM BBT – Amanda pushing the evict-Helen idea on Aaryn and says they can't trust her.

7:35 PM BBT – Aaryn and Andy discuss their F4 deal with McCranda and how they'll have to face off against them. Aaryn thinks her and Andy will be able to beat them.

8:35 PM BBT – Andy and Helen in HoH room discussing upcoming Veto. Andy wants to tell Jessie not to be worried and to take prizes if they are offered even though she should be very worried.

10:10 PM BBT – Jessie asking Helen if there has been any talk about the plan for this week. Helen says the plan is to save Jessie with the Veto. Nope.

10:25 PM BBT – Helen tells Spencer he is safe this week and that she told Jessie the same even though she's not.

11:40 PM BBT – Helen and Elissa talking in the Lounge. Helen is worried about Andy because his nominations were not a "big move." They wonder if he's more loyal to them or McCranda. Helen thinks Aaryn is more loyal to McCranda as well.

11:55 PM BBT – Jessie working on Aaryn for support. Aaryn says she wants to keep Jessie there this week.

12:30 AM BBT – McCranda discussing getting to the end of the game. They think taking Elissa to F3 could be a good move. Amanda says they've controlled every single nomination and eviction so far. She wants to make sure they don't go up on the block together by manipulating the situation.

1:10 AM BBT – Andy tells Helen and Elissa that this isn't the week to make a move. Apparently there's never a right week to make a "big move."

1:40 AM BBT – Amanda tells Spencer he's safe. They just have to make sure Jessie does not win Veto.

1:45 AM BBT – Amanda tells McCrae that she wants to BD Helen if Jessie gets the Veto. McCrae does not like that idea.

2:30 AM BBT – McCranda have the back bedroom all to themselves and they're putting it to good use.
Lots of potential with Saturday's Veto competition, but the odds are stacked against Jessie. She'll have to win Veto to keep herself safe unless this "evict Helen" plan takes root, but considering HGs wouldn't even vote out Amanda when she was already on the block makes me think that won't go anywhere.
You can watch all of these Big Brother 15 events using the archives flashback, the DVR-like feature of this year's Live Feeds which means it's always live, even when you missed it! Sign-up now to get the free trial to watch it all live & uncensored.
click images to see full-size