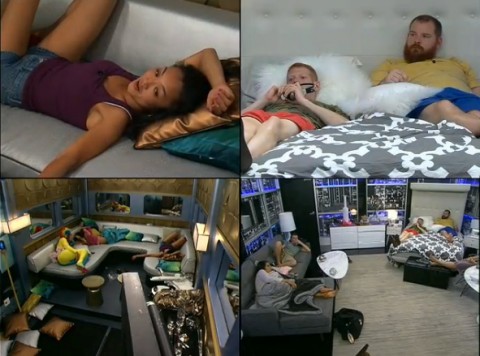 It was eviction eve in the Big Brother 15 house last night and everybody (and by everybody I really only mean Amanda) was in hyper-paranoia mode. Amanda is starting spat after spat, despite being on the block, and McCrae tries to his best to talk her down, but he gets no where. That's basically how the whole night went with some random chit-chat thrown in here and there.
Read about those moments and others on our Live Feed highlights below. And remember to sign-up now for the Big Brother Feeds so you can watch any of these moments by using the Flashback archive feature.
Big Brother 15 Live Feed Highlights – Wednesday, Aug. 6/Thursday, Aug. 7, 2013
4:52 PM BBT – Houseguests have been practicing for what they think is the next HOH competition, but it could be for the double eviction veto. Inside lockdown announced.

5:09 PM BBT – GinaMarie is calling people up to the HOH room again. She wants to see how everyone is voting. Jessie tells her it's her vote and she doesn't want to talk about it.

5:20 PM BBT – Amanda's paranoia is on high alert again. Now she's all over the place with Aaryn. This goes on for most of the night.

6:30 PM BBT – Feeds cut for the half-way point. Houseguests have learned they've made it to jury.

8:07 PM BBT – Feeds return.

8:13 PM BBT – McCrae thinks the vote could be a tie tonight. He tells Helen he thinks Aaryn, Judd and Jessie are working together and will vote against Amanda.

8:33 PM BBT – Aaryn tells Amanda she and Judd kissed.

9:09 PM BBT – Amanda and others are talking about the veto fight between her and Candice. Amanda thinks they wouldn't show all the things Amanda said. They showed most except Amanda's comments about Howard's manhood and Candice's mouth.

9:20 PM BBT – Elissa says she thinks Aaryn playing Big Brother on Adderall is like an athlete on steroids. She thinks it's unfair and should be against the rules.

9:55 PM BBT – Amanda tells Aaryn she thinks she'll vote against her. They spat a bit and Aaryn leaves the room. McCrae gets mad at Amanda for acting that way while she's on the block.

10:08 PM BBT – Amanda and McCrae are now fighting because Amanda can't explain why McCrae doesn't seem to support her. He's trying to keep her calm since she's nominated for eviction, but she thinks he's not supporting her. She's being pretty nasty to him and tells him to go sleep with Aaryn.

10:25 PM BBT – Aaryn goes back to the HOH room and Amanda tries to explain why she was freaking out. They seem to have patched things up. For now.

11:28 PM BBT – Judd says it would suck to get evicted the week before jury. Apparently they don't know they've made it to jury.

11:30 PM BBT – GinaMarie comes storming into the HOH room saying Aaryn said something about GM and Amanda and no one really knows what the hell she's talking about. Basically GM is trying to create drama that doesn't exist.

12:05 AM BBT – Helen and Andy agree they want to backdoor Judd by putting up Spencer and Jessie.

12:15 AM BBT – Judd and Amanda worrying over who could be in danger with this Double Eviction.

12:35 AM BBT – Amanda tells McCrae that Judd needs to go because she thinks he's been MVP and keeps nominating her. Amanda wants to keep Aaryn around as a tool of her destruction.

1:20 AM BBT – Amanda thinks no one will nominate them together because of the target it'd put on the HoH's back for trying to evict them. She thinks he would go if they were on the block together.

2:30 AM BBT – McCrae and Amanda close out the night with a little more game talk about which is the bigger threat. Everyone else is asleep.
So the housguests know they've reached the half-way point now and they're also pretty aware that tonight is a double eviction. Candice will be evicted and what happens after that second HOH is anybody's wild guess.
You can watch all of these Big Brother 15 events using the archives flashback, the DVR-like feature of this year's Live Feeds which means it's always live, even when you missed it! Sign-up now to get the free trial to watch it all live & uncensored.
click images to see full-size