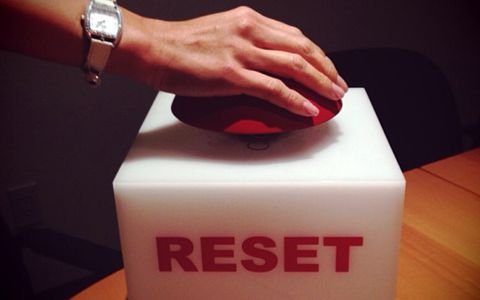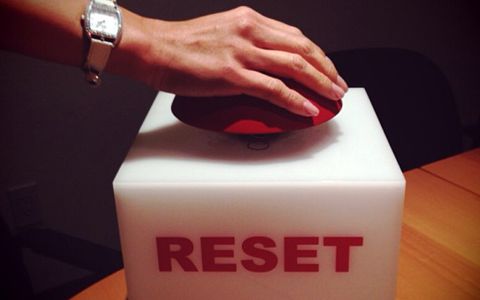 Tonight is set to be an exciting and potentially explosive round of Big Brother 15 with the pending Double Eviction. Adding to the mystery and drama is a tease from BB15's host Julie Chen of a familiar prop that is looking to make a comeback: the "Reset" button.
During Big Brother 14 the then Coaches (Britney, Dan, Janelle, & Mike Boogie) were tempted back in to the game for a chance at the prize money by hitting the "Reset" button. Instead of getting an exciting blindside eviction of Frank the votes were cancelled and the Coaches became HGs.
So what could the "Reset" button bring to BB15? There are some many possibilities, but here are a few ideas:
The MVP twist ends and we go back to 2 nominees each week.
The MVP twist "resets" back to America voting for a MVP HG rather than the 3rd nominee.
No one gets evicted, but Dan enters the house, slaps HGs about the neck & face for awful behavior, and then leaves.
Considering we're looking at a Double Eviction tonight I don't see how the "no one gets evicted" part of the "Reset" button could be put in to effect again this time around. I'm placing my bet on the second option with the MVP twist reverting to its original state. Sure, the twist could be brought to an end tonight, but I hope that doesn't happen.
Yes, I like the MVP twist in concept. Sure, it was flubbed at the start with CBS bringing in a ringer to catch the bulk of votes through her Rachel Reilly connection. They must not have expected her to get it for 3 straight weeks as they eventually modified the rules to suit their needs, but the idea was good. Look how much drama it's caused in the past two weeks. The mystery is a fantastic catalyst for paranoia and mistrust.
While I'm sorry to see it negatively impacting HGs like Judd with others fearing he's the MVP, Big Brother has always been about playing the field in front of you. There is no "fair" in Big Brother (cue Daniele's montage of "it's nooottt faaaaaiirr") and this is just another example of that. Until Grodner gets her hands off, this will be the game HGs play.
So we're going to see something happen very soon with this "Reset" but we'll have to want to find out just what it means for the game. What do you hope will happen?
Update: No, I don't expect anyone to actually press the button. I believe Julie was just alerting us to an upcoming change. But who knows?