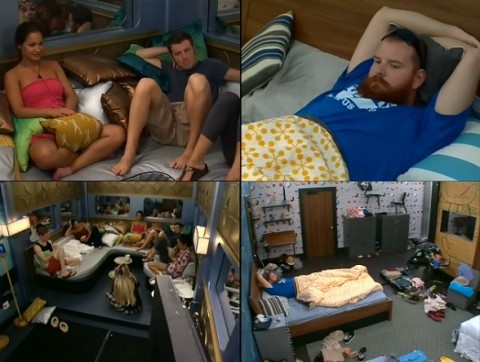 The paranoia, speculation and suspicion that has overtaken the Big Brother 15 house continued all day Wednesday and into the night. Judd is the main subject and thanks to Helen, Andy and Amanda, it's spreading rapidly. And about maybe  6 percent of what they think about Judd is true.
Read about those moments and others on our Live Feed highlights below. And remember to sign-up now for the Big Brother Feeds so you can watch any of these moments by using the Flashback archive feature.
Big Brother 15 Live Feed Highlights –  Wednesday, July 31, 2013
9:34 AM BBT -Wake-up time.

9:58 AM BBT – Judd, Amanda and Helen appear to be up. Others are still in bed.

10:06 AM BBT – Helen is running in the house because they're on lockdown for tomorrow night's Head of Household competition.

10:15 AM BBT – Judd says he's going back to bed. Amanda is in the diary room.

10:28 AM BBT – A sleeping Spencer is called to the Diary Room.

10:44 AM BBT – Aaryn called to the Diary Room. Most of the house is STILL sleeping.

11:05 AM BBT – Helen is cleaning the kitchen. Everyone else has gone back to bed.

1:00 PM BBT – Helen is still the ONLY person awake.

1:56 PM BBT – Elissa and Jessie finally get up. She tells Helen she's happy they let them sleep. (Another sign that tomorrow's HOH is endurance).

2:16 PM BBT – Andy is finally up and he and Helen are in the storage room talking about their new favorite topic: Judd. They both want to backdoor him soon.

2:36 PM BBT -Andy telling Amanda more about how he doesn't trust Judd. He's also worried Judd is working with GinaMarie and Aaryn. Amanda doesn't think so. They both reaffirm that if either of them win Head of Household, Judd will be their target. (Good thing for Judd neither one of them will win endurance).

2:42 PM BBT – Amanda tells Aaryn that Judd is sketchy and that they can't trust him.

3:10 PM BBT – Now Aaryn thinks Judd is MVP also.

3:33 PM BBT – Helen tells McCare that Judd wants to send him out after they get to jury. (She left out the part where she wanted to do that too).

3:52 PM BBT – Elissa still doesn't think Judd is MVP.

4:01 PM BBT – Amanda tells Candice not to worry, she made sure that if the vote is a tie, Aaryn won't break it to send her home.

4:45 PM BBT – McCrae, Amanda and Andy swear on a final three again.

4:50 PM BBT – Helen says they might not be able to save Candice this week.

4:57 PM BBT – Andy says he wants Judd out so much that he's seeing red. Really, Andy? OK.

5:28 PM BBT – Judd says he wants to win HOH this week so he can nominate Candice and Jessie. He says he needs to cut out the Jessie part of his game because she's interfering.

6:30 PM BBT – Aaryn, who was getting close with Judd, now has fallen for Helen's paranoia about him.

7:45 PM BBT – Jessie is upset and they're doing an "intervention" trying to get her to talk to them. She's upset that people think she was trying to flip the vote on Candice. Andy comforts her and they have a talk. She tells him not to tell anyone about their talk.

8:12 PM BBT – Andy tells the others he didn't get Jessie to talk about anything, but Judd gets mad and says he heard her say Howard's name. Andy and Judd argue a bit over this.

8:26 PM BBT – Now everyone thinks Judd and Jessie have a master plan.

8:33 PM BBT – Judd pulls Andy aside to talk about their argument. Judd asks why he has to say stuff in front of people instead of them talking about it alone.

9:38 PM BBT – Judd confirms to Aaryn that he is working with her now and not Jessie because she's a spaz and a target because of it.

10:45 PM BBT – Helen tells Judd to distance himself from Jessie because people are thinking of them as a pair.

11:03 PM BBT – Helen AGAIN tells Candice she's safe. Helen is so all over the place.

11:10 PM BBT – Houseguests are doing the Harlem Shake.

11:50 PM BBT – Aaryn plans to avoid reading comments about her on the Internet because they'll really affect her. Uh oh.

1:05 AM BBT- Andy warns McCranda that Aaryn is panicking over Candice staying. Andy assures them there's no chance Amanda is going home.

1:50 AM BBT – Aaryn tells GM that McCranda, Helen, & Andy want to evict Judd next, but Aaryn doesn't want to because he saved her over Kaitlin last week.

2:30 AM BBT – Aaryn & GM going over who they'd want to win HoH. Aaryn is worried about Jessie, Spencer, or Candice winning.

3:00 AM BBT – Howard & Candice working on flipping Jessie.

3:30 AM BBT – Howard & Candice think they can flip Andy. Howard trusts Andy.

3:50 AM BBT – Andy gets in bed with Jessie and whispers that he wants to keep Amanda. Jessie says she'll tell Howard that she's too worried to try and help him with a vote. Jessie gets up and goes tells Howard & Candice that she's chickening out. They try to re-convince her.

4:15 AM BBT – GM comes in to the Lounge to talk with Candice & Howard. Howard thinks he has the votes to stay. He talks more about having Andy's support. He doesn't.
As far as the eviction tonight, it seems to be a solid bet that Howard is out. There's still a slight chance someone might flip and send Candice packing. As for the Head of Household competition, Judd better hope he wins, or the people he thinks he's aligned with will be sending him out the door next Thursday.
You can watch all of these Big Brother 15 events using the archives flashback, the DVR-like feature of this year's Live Feeds which means it's always live, even when you missed it! Sign-up now to get the free trial to watch it all live & uncensored.
click images to see full-size