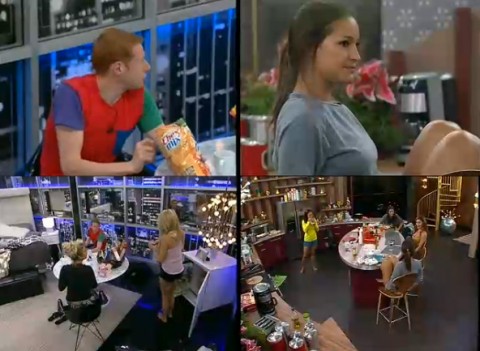 It's the night after a Big Brother 15 live eviction, so that means a lot of scrambling, alliance shifting and sucking up. And we got all of that and more last night on the Live Feeds.
Read about those moments and others on our Live Feeds highlights below. And remember that you can check out any of these moments by using the Live Feeds flashback/archive feature.
Big Brother 15 Live Feed Highlights – Thursday, July 25, 2013
4:25 PM BBT – Spencer asks Helen who to vote for. She tells him Kaitlin. Everyone is officially voting to evict Kaitlin except maybe Elissa

5:10 PM BBT – Helen tells Spencer she'll get him to jury. She tells Andy she lied to him about that.

5:42 PM BBT – Elissa still wants to evict Aaryn, but Helen basically tells her it's not happening.

5:50 PM BBT – Producer tells the Houseguests to go to the living room. Feeds cut for the live show.

7:01 PM BBT – Feeds return. As we saw on the live show, Aaryn just won Head of Household.

7:02 PM BBT – Judd and Andy are congratulation Aaryn and tell her they will support whatever decisions she makes.

7:05 PM BBT – Elissa is crying because she's afraid Aaryn will put her up. She regrets voting with the house. Amanda is consoling her and telling her she won't go up.

7:07 PM BBT – Helen and Aaryn are talking about Arryn's wins and what she's going to do. Helen tells her that Elissa is running her game. Aaryn wants to nominate Elissa but only if it's OK with Helen. Helen says she will think about it.

7:25 PM BBT – Amanda says that Elissa is absolutely not going home this week. She says it will be Howard or Spencer and that's how it has to be.

7:32 PM BBT – Helen  throwing Elissa under the bus some more and thinks she would be better to get out this week. Everyone else joins in with the Elissa bashing.

7:38 PM BBT – Amanda tells Aaryn to nominate Howard and Spencer and to not worry about Elissa.

8:05 PM BBT – Elissa is crying again.

8:06 PM BBT – Helen tells Candice that she is going to work to make sure Howard doesn't go home. She says she'll try to get Spencer sent home instead.

8:13 PM BBT – Candice actually says she'd rather see Howard go home than Elissa.

9:09 PM BBT – McCrae tells Amanda that Aaryn should put up Howard and Candice. She says it needs to be Spencer and Howard.

10:05 PM BBT – Howard is walking through the house talking to himself. He's telling himself to stay cool. He's not happy that Aaryn won Head of Household.

10:25 PM BBT – Houseguest hide from Aaryn while she's getting her HOH room key.

10:35 PM BBT – Aaryn gets her Head of Household reveal. Her evil clown doll returns.

11:02 PM BBT – Aaryn joking says "The took out all the black ones because I'm racist," talking about the HOH fish.

11:15 PM BBT – Aaryn promised to Amanda and Jessie that she will put up Spencer and Howard and not Elissa.

11:45 PM BBT – Aaryn tells GM about her deal with Helen to let them control her noms. Aaryn says her and GM will be safe for awhile.

12:35 PM BBT – Candice talks with Howard about trying to pull Aaryn to their side.

2:25 AM BBT – Judd, Jessie, GinaMarie, & Aaryn agree that they should target Howard, Spencer, Candice, & Elissa for the next few weeks.

3:35 AM BBT – Aaryn again confirms she is going to nominate Howard and Spencer.
Right now it sounds like Amanda might finally get her wish of Howard being nominated. Aaryn has promised to nominate him and Spencer and not Elissa. But even Helen kind of wants Elissa out this week. It's going to be interesting to see what Aaryn actually does.
You can watch all of these Big Brother 15 events using the archives flashback, the DVR-like feature of this year's Live Feeds which means it's always live, even when you missed it! Sign-up now to get the free trial to watch it all live & uncensored.