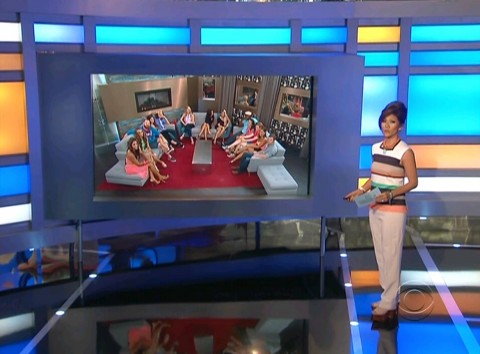 After three weeks of saying goodbye to a guy houseguest, we finally said goodbye to a girl on tonight's Big Brother 15. A "Mean Girl," to be exact. Hey, even Julie Chen called them that, so I think it's officially OK for me to do so.
At the top of the episode Julie tells us how the MVP votes played out.  Apparently we "overwhelmingly" voted for Aaryn to go up as the third nominee, but since Judd nominated her, Elissa went up as the person with the second-most votes.
The episode picks up right after America decided to replace Elissa with GinaMarie as the MVP nominee. GinaMarie, Aaryn and Katilin start scrambling. Aaryn starts her campaign agains GinaMarie right away. And then when she realizes that's not working, she starts throwing Kaitlin under the bus.
The other houseguests are agreeing that Kaitlin is a target so the talk among the house turns to maybe keeping Aaryn until next week and ditching Kaitlin because she's more of a threat. Elissa, Candice and Howard are more inclined to evict Aaryn, but eventually Kaitlin's name gets moved to the top of the list.
Aaryn continues her campaign so she starts promising Helen and Elissa that if they keep her she will throw Head of Household or let them make the nominations for her. Elissa is skeptical, but Helen believes her. Elissa is having a hard time looking past the racial comments Aaryn has made.
But the deal goes on without everyone's approval especially after Judd tells Helen, Jessie and Andy about the fake alliance he agreed to with Kaitlin, Spencer, Howard and GinaMarie. So Helen decides that's the final nail in Kaitlin's coffin.
Helen immediately tells Elissa and Amanda about the secret alliance. Oh, and don't tell anyone, she says. So Elissa immediately asks Kaitlin if she made a deal. And that she's now the target. And Aaryn hears it. And soon the whole house knows. So it's time for a house meeting about it.
And it's not so much a house meeting as it is an argument between Elissa and Aaryn. And all that leads to is Elissa acting very weird and putting a target on her back with her own alliance.
The Vote
Amanda votes to evict Kaitlin
McCrae votes to evict Katilin
Helen votes to evict Kaitlin
Candice votes to evict Kaitlin
Elissa votes to evict Kaitlin
Spencer votes to evict Kaitlin
Spencer votes to evict Kaitlin
Andy votes to evict Kaitlin
Jessie votes to evict Kaitlin
By a vote of 9-0, Kaitlin is evicted from the Big Brother 15 house.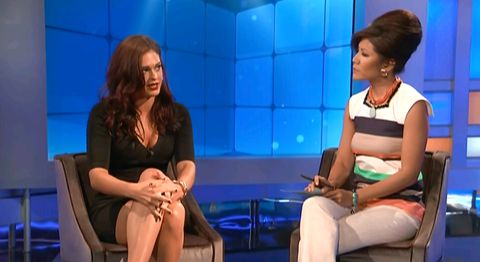 Julie does a pretty good job of grilling Kaitlin and goes as far as telling her that America has referred to her, Aaryn and GinaMarie as the Mean Girls. "Ouch," Kaitlin says to that. Julie then reveals to us that America will again me this week's BBMVP. Use your power wisely, America.
It's time for Head of Household competition time! The player who lands their ball in the highest number of a giant roulette wheel, wins.
The  HOH Scores
Andy: 23
McCrae: 28
GinaMarie: 3
Candice: 27
Spencer: 34
Aaryn: 36
Howard: 17
Jessie: 2
Helen: 28
Amanda: 1
Elissa: 0
Aaryn is the new Head of Household. Here's to hoping the houseguests are happy with the deals they made to evict Kaitlin instead this week.