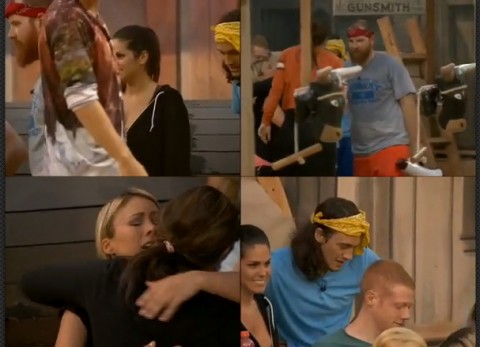 We might have missed half of a day on the Big Brother 15 Live Feeds for unknown reasons, but we got to see an endurance competition play out that resulted in a hilariously surprising outcome.
Read about those moments and others on our Live Feed highlights below. And remember to sign-up now for the Big Brother Feeds so you can watch any of these moments by using the Flashback archive feature.
Big Brother 15 Live Feed Highlights – Thursday, Aug.1/Friday, Aug. 2, 2013
9:15 AM BBT – Elissa and Helen have both been up and gone back to bed.

9:45 AM BBT – Helen is up and doing her exercise routine.

9:59 AM BBT – Feeds cut. Wake-up time.

10:20 AM BBT – Judd is up and eating and Howard is in the photobooth. Most of the others are still sleeping.

10:35 AM BBT – Helen and Judd are talking about the eviction and productions cuts to fish.

10:45 AM BBT- Candice joins Judd and Helen. They start talking about stuff that happened weeks ago.

10:50 AM BBT – Candice mentions it's crazy that they only have 15 minutes to do something.

11:04 AM BBT – Andy tells Aaryn about the plan last night to flip and vote Amanda out. He tells her that Judd wasn't a part of it. Maybe people will realize Judd isn't the bad guy? Probably not with Amanda and Helen on the case.

11:18 AM BBT – Feeds cut to trivia. And stay cut for the next eight hours.

7:05 PM BBT – Feeds finally return after the live show ends. All houseguests are still going in the endurance competition.

7:23 PM BBT – Spencer & Candice are both out.

7:24 PM BBT – Helen falls.

7:24 PM BBT – Amanda is also out.

7:26PM BBT – Elissa, Judd and Andy are down out of the competition.

7:27PM BBT – Just Jessie, McCrae and GinaMarie left.

7:46PM BBT – Candice got the $5,000, Spencer got a bullhorn and Helen got a barbecue party.

7:48PM BBT – Jessie falls.

7:53PM BBT – McC looks very winded. Can't see GM. Not sure how she's doing.

7:58PM BBT – GinaMarie and McCrae trying to barter with each other. Neither are budging.

7:59PM BBT – McCrae falls. GinaMarie is the new HOH.

8:12 PM BBT – GinaMarie wonders if Nick would be proud of her.

8:25 PM BBT – Spencer can't talk without using the megaphone until nominations.

8:53 PM BBT – Aaryn tells Judd she's going to see if GinaMarie will nominate Spencer and Candice.

9:05 PM BBT – GinaMarie confirms to Aaryn that she plans to put up Spencer and Candice and if one of them wins veto, she will put up Jessie.

9:50 PM BBT – GinaMarie admits that she does not like the backdoor move. She doesn't plan to play that way.

10:12 PM BBT – Amanda is now paranoid GinaMarie is going to nominate them. Seriously, Amanda, STOP.  McCrae tells her to chill out this week and they're not going to push her to nominate anyone. '

10:15 PM BBT – Aaryn tells McCrae and Amanda now GinaMarie is looking at nominated Candice and Jessie because Jessie would be more likely to win the veto over Spencer, which gives Candice less of a shot.

11:37 PM BBT – It's time for GinaMarie's HOH room reveal.

11:41 PM BBT – GinaMarie explains the story behind her crown. She says she tried for seven years before she won a pageant.

12:15 AM BBT – Jessie is pissed off that Helen picked Aaryn for the BBQ party instead of her. Jessie had asked, but Helen told Aaryn she didn't really want to invite her.

12:30 AM BBT – Cue the fights for the night. Amanda starts arguing with Jessie and tells her to go cry about it. Back in the kitchen Amanda starts retelling the fight. Elissa says she thinks Jessie is also upset because Judd and Aaryn are now flirting.

12:35 AM BBT – Fight breaking out between Candice and Amanda. Everyone jumping on Candice for her trying to keep Howard. She explains of course she would since he was her friend. Amanda starts to retell what she says he said the other day in the kitchen and we get Fish for a moment.

1:15 AM BBT – Candice says she can't believe Howard would say what Amanda is claiming. Elissa says Amanda would have no reason to make it up. Um, okay.

1:56 AM BBT – Feed audio is back and Amanda is screaming at Jessie. Amanda is chewing out Jessie and says she's trying to steal other girls' guys. Amanda calls Jessie a slut. Jessie says she's not afraid of her. Amanda says she should be because she (Jessie) is going home this week.

2:25 AM BBT – Can still hear Amanda and Jessie fighting.

2:45 AM BBT – Elissa says Andy tripped her when he fell off the comp and it was unfair since they weren't allowed to impact each other.

2:50 AM BBT – Andy says Amanda is being a bully in her attacks.

3:10 AM BBT – McCrae is upset at Amanda. He says she's screwing up with these fights. "That's a dumb way to play the game." He says she's going to go before him if she keeps doing this every week.

3:45 AM BBT – Aaryn talking about Candice being the main target and then Jessie needs to go next week.

4:05 AM BBT – McC asking Judd for help to clean up Amanda's behavior. Judd thinks he's worrying too much about it.

5:00 AM BBT – Amanda and McCrae have the HoH room for their "honeymoon." GM is sleeping downstairs tonight.
In this house, it's too early to tell what anyone is truly thinking. Right now it appears GinaMarie will be nominating Candice and Jessie. But with Helen and Amanda working the house, anything is possible.
You can watch all of these Big Brother 15 events using the archives flashback, the DVR-like feature of this year's Live Feeds which means it's always live, even when you missed it! Sign-up now to get the free trial to watch it all live & uncensored.
click images to see full-size