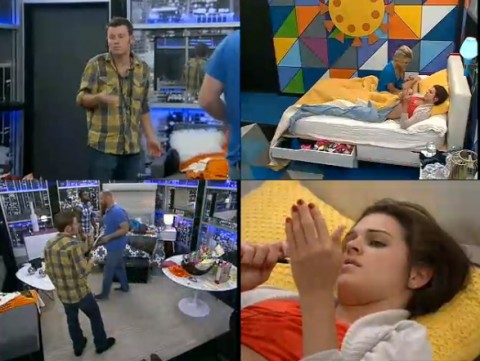 Goodbye Big Brother 15 Week 3, Hello Week 4! We said goodbye to Jeremy and hello to Judd's Head of Household reign during last night's live show, but what went down on the Live Feeds after? Well Judd got his HOH room and aside from that, the night was filled with wild speculation as to what Julie Chen meant when she told them to expect the unexpected regarding this week's MVP.
Read about all the moments from the house on our Live Feeds highlights below. And remember that you can check out any of these moments by using the Live Feeds flashback/archive feature.
Big Brother 15 Live Feed Highlights – Thursday, July 18, Friday, July 19, 2013
7:01 PM BBT – Feeds return after live show ends. Aaryn and GinaMarie are both unhappy with how America voted for them in those Head of Household answers. Aaryn says everyone think she has a big ego and GinaMarie says America thinks she's stupid. No comment on either.

7:05 PM BBT – Kaitlin is crying a bit and upset that Jeremy is no longer in the game. But she's handling it much better than Aaryn and GinaMarie handled David and Nick leaving.

7:08 PM BBT – Amanda is already telling Judd who he should put up. She says he should put  up Candice and Howard or Aaryn and Kaitlin with Howard being backdoored.

7:12 PM BBT – Judd tells Spencer that he didn't want to win HOH. He tried to throw it at the tie-breaker.

7:20 PM BBT – Speculation on what Julie meant about expect the unexpected for the next MVP is running wild.

7:27 PM BBT – Amanda and Helen agree the best plan would be for Judd to nominate Aaryn and Kaitlin, MVP nominates Spencer and then Howard gets backdoored.

7:37 PM BBT – Judd is pretty worried about Julie's message during the live show. He's not very happy with the position he's in right now.

8:00 PM BBT – Judd tells Elissa he's not excited about being HOH because of what Julie said.

8:57 PM BBT – Everyone talking about how annoying GinaMarie is over Nick being gone. Even though it's now been a week.

10:20 PM BBT – Judd gets his HOH room. He checks out his basket and reads his letter from his mom and dad out loud to the other houseguests.

11:00 PM BBT – Aaryn tells Kaitlin she thinks she's safe from Judd's nominations because he owes her.

11:15 PM BBT – Judd talking noms with Howard. Judd wants to nom GM since she mentioned targeting him before, but also wants to go with Aaryn & Kaitlin. Howard tells him Aaryn is a safe choice.

12:00 AM BBT – Have-nots can eat again. There is much rejoicing.

1:15 AM BBT – Aaryn talking with Judd. She is offering safety if he keeps her off the block or saves her with a Veto if MVP puts her up there. Judd says he'll work to make sure she isn't the MVP nom this week. He's not being honest with her.

1:45 AM BBT – Mean Girls expecting to be nominated, but think there's another backdoor plan to get out Howard or Spencer.

2:05 AM BBT – Amanda is doing more planning and plotting under the assumption that Elissa will control the MVP vote again. She won't. Amanda wants Howard out next.

2:20 AM BBT – Aaryn is trash talking GM to Judd. Judd promises Aaryn he won't nominate her.

3:20 AM BBT – Amanda, McC, Andy, & Spencer talking in Lounge and worry the week would be a waste of GM goes home.

3:40 AM BBT – Jessie pushes Judd to make Kaitlin the target this week. Both worry about Amanda, but agree this isn't the time to go after her.

4:15 AM BBT – Judd considering trying to backdoor Elissa if she doesn't nominate the way they want. Again, they're all assuming Elissa will be MVP this week.

5:00 AM BBT – Judd confirms to Amanda & McCrae that he's planning to nominate Kaitlin & GM.
Who knows what's going to happen this week as far as nominations go. Judd has his preferences it seems, but Amanda has been controlling a lot of what goes on in the house with her strong and bossy nature.
You can watch all of these Big Brother 15 events using the archives flashback, the DVR-like feature of this year's Live Feeds which means it's always live, even when you missed it! Sign-up now to get the free trial to watch it all live & uncensored.