The Big Brother 15 houseguests' plan for a true backdoor came to fruition Thursday night as Jeremy became the third guy in a row to walk out the door.
The episode picks up right after Jeremy was named as the replacement nominee. No one is surprised, of course, but Helen is still jumping for joy in the Diary Room.
And then we get to Jeremy's campaign kickoff. And he does so in a baby diaper. He starts with McCrae, Amanda and Judd. And they sort of think about it for a second. Or not.
Aaryn starts her own form of campaigning by not being a total b***h. And she's actually doing a pretty solid job at it. And then she ruins it all by telling Judd that it's been hard for her "acting" nice to everyone and she should be commended for that.
Jeremy's campaigning switches to Helen and Elissa. He tells them that if they keep him he will work only for them and his attitude will be long gone. He even says he'd nominated Kaitlin and Aaryn over Helen and Elissa. Helen finds his offer very, very tempting.
It's time to check in with the houseguests. She speaks with Elissa first about her first week not being on the block. Then she asks Candice about her bed-flipping and how things are in the house.
It's time to check in with Amanda and Judd's parents to see what they think of they're odd-couple relationship. McCrae's parents are all for it. Amanda's mom is hoping he's a secret CEO.
It's time for the live vote. For the final pleas, Jeremy basically says goodbye. Aaryn says a canned statement. Spencer's is douchey. Let's get to the votes.
The Votes
Candice votes to evict Jeremy.
Andy votes to evict Jeremy.
Howard votes to evict Jeremy.
Elissa votes to evict Jeremy.
Kaitlin votes to evict Spencer.
GinaMarie votes to evict Jeremy.
Amanda votes to evict Jeremy.
McCrae votes to evict Jeremy.
Jessie votes to evict Jeremy.
Judd votes to evict Jeremy.
By a vote of 9-0-1, Jeremy is evicted from the Big Brother 15 house.
Jeremy leaves the house and Julie asks him right away if he's sitting there beside her because he went in the house immediately cocky. He says that's surely it. She also asks him if the bully they saw in the house is the same person outside the house. He says he is not a bully.
Goodbye messages were lame so there's nothing to say about those.
Julie then announces to us that America is the MVP this week and that we get to nominate the third HG for eviction this week.
It's time for the Head of Household competition. This week it's the "how did America" vote quiz and here are the results:
First out: Andy, Amanda, Candice and Elissa.
Second out: Aaryn, Jessie and GinaMarie
Threeway tie: Judd, Kaitlin and McCrae. Tie-breaker winner is Judd!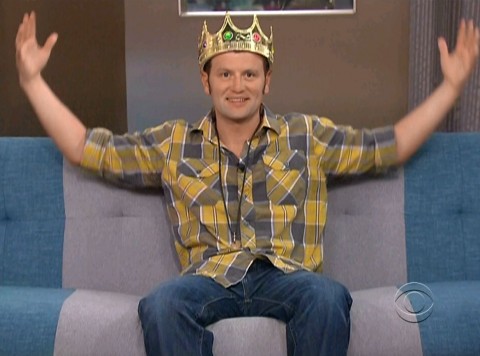 Before she says goodnight, Julie gives the houseguests a hint about the MVP twist. She tells them to "expect the unexpected." So let the constant, mindless speculation begin! Way to go, Julie.