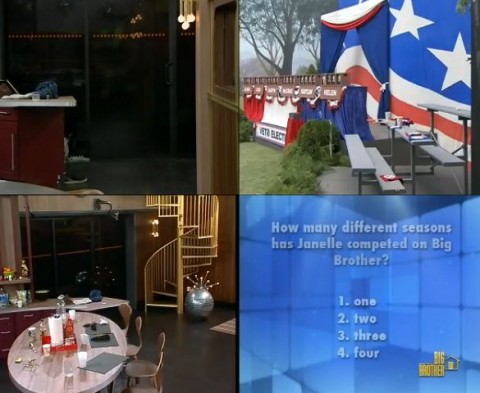 With nominations out of the way there was plenty of drama on Saturday for Big Brother 15. We learned the shocking MVP results along with the Veto competition spoilers. You'll definitely want to get caught up and see what's been going on in the house.
Read about those moments and others on our Live Feeds highlights below. And remember that you can check out any of these moments by using the Live Feeds flashback/archive feature.
Big Brother 15 Live Feed Highlights – Saturday, July 20, 2013
8:45 AM BBT – HGs up and still trying to figure out what Julie's comment about the MVP twist meant.

9:23 AM BBT – Elissa having a very strange exchange with Judd. She's telling him to backdoor her & talking about how he and the other HGs don't understand how hard it is to be away from family. She tells him she's with production and just there as a prank. Judd is thoroughly confused and Elissa continues to mess with his head. She's upset with him.

10:00 AM BBT – Judd is still flustered by Elissa's behavior and looking at if they could evict her.

10:50 AM BBT – Feeds return and we find out Elissa is the MVP nominee. Helen & McCrae were picked to play in the Veto competition as well.

10:55 AM BBT – HGs start wondering if Elissa could nominate herself. Let the wild speculation begin. Everyone guessing some weird situation on how Elissa could have been picked as the nominee.

12:15 PM BBT – HGs still scrambling to figure out the situation. No understands what happened or what is going on. They think Elissa might be trying to position herself for another opportunity or benefit coming up in the competition.

4:00 PM BBT – Live Feeds return from the Veto competition. Elissa won the Veto. We get a quick glimpse of the comp: "Veto Election." There were prizes & punishments. McC won $5K. Everyone else is punished including Judd getting solitary confinement for 24 hours.

4:20 PM BBT – Howard is panicking that he's being set up with the MVP situation.

4:30 PM BBT – Helen, Howard, & Candice discussing Amanda. They're growing suspicious of her.

5:00 PM BBT – Wild speculation continues in the HoH room. They think Elissa was acting weird. Amanda concerned about Howard. Elsewhere Elissa is guessing Judd put her up and this is connected back to her weird conversation with him this morning.

5:15 PM BBT – Judd goes to his solitary confinement punishment in the Lounge. He has an alarm clock in there that goes off every 9 mins and requires him to manually hit "snooze" each time. It's awful. Meanwhile, Amanda and McCrae have taken over Judd's HoH room and plan to stay there while Judd is in confinement.

5:40 PM BBT – More anti-Amanda talk this time with Helen and Elissa. They're comparing notes on what she's been doing. Helen later warns Andy about Amanda.

6:20 PM BBT – Now Elissa having the same Amanda talk with Howard. Everyone seems to be catching on to what Amanda has been doing (trying to control the house).

6:45 PM BBT – After Elissa talks with Candice about Amanda they go upstairs to confront her. Candice walks right in to the HoH room and asks Amanda why she told Aaryn was safe this week. Candice is upset because the goal was to evict Aaryn this week and now she thinks Amanda is targeting Howard (she is) instead of focusing on getting out the girl who made racial attacks on them. It's a lengthy, semi-heated exchange worth watching.

7:11 PM BBT – Elissa mentions "they were really mad at me this morning." Sounds like she was referring to production. There's speculation she was given info in the DR about the MVP or possibly her nomination.

7:25 PM BBT – Aaryn joins the HoH discussion which halts. The whole time they were talking about evicting her she was right outside the door playing chess. Aaryn says she doesn't know why the house is against her. I believe her. She's totally clueless about her offenses and won't understand when she's evicted. Aaryn doesn't think the things she's said or done were bad.

8:05 PM BBT – Helen has to go to bed for her curfew. This is her punishment from the comp. She can't talk to anyone.

8:10 PM BBT – Elissa is wrapping her body in Saran wrap so she can sweat and exercise while on lockdown inside the house. When Elissa asked who would wrap her McCrae offered, but Amanda shut him down on that idea.

9:15 PM BBT – Spencer warns Aaryn that she's the target. He then discusses possible deals with her.

10:05 PM BBT – Kaitlin & GM discussing the Veto competition. They think the game was stacked in Elissa's favor.

11:50 PM BBT – Elissa & Aaryn talking. Elissa says she wasn't going after Aaryn.

12:00 AM BBT – It's McCrae's birthday. There's a celebration. Amanda is all dressed up.

12:45 AM BBT – Amanda is upset because Elissa made rude comments about her appearance.

2:00 AM BBT – Amanda and McCrae appear to take full advantage of the privacy of Judd's HoH room for the night.
Saturday was nuts in the house. This shake-up with the MVP twist had really put the house on edge, but after three weeks of Elissa holding the power it's just made the HGs fear and accuse her of mischief with this week's MVP nom. Sunday should be a little calmer as the HGs await the Veto Ceremony on Monday afternoon when we'll find out who was next in line from the voting.
You can watch all of these Big Brother 15 events using the archives flashback, the DVR-like feature of this year's Live Feeds which means it's always live, even when you missed it! Sign-up now to get the free trial to watch it all live & uncensored.
click images to see full-size