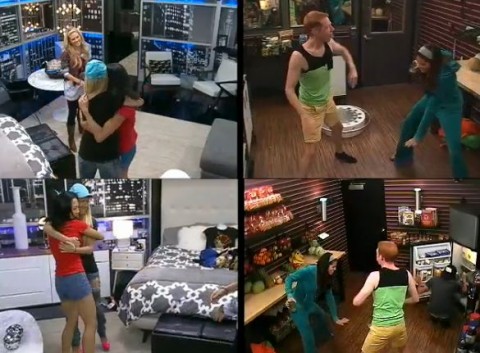 It was Nominations night in the "Big Brother 15" house and that always gives the HGs something to talk about. The house was mostly unified with these picks and there was even some odd celebrations following the ceremony. The night went by quietly, but the real drama could arrive with the MVP twist early on Saturday.
Read about those moments and others on our Live Feed highlights below. And remember to sign-up now for the Big Brother Feeds so you can watch any of these moments by using the Flashback archive feature.
Big Brother 15 Live Feed Highlights – Friday, July 26/Saturday, July 27, 2013
3:58 PM BBT – Feeds return. GinaMarie, Amanda, Judd, & Candice are Have-Nots. They'll be eating ramen noodles and raisins. That's not too bad.

4:10 PM BBT – Aaryn warns Howard the house wants him out, but she'll give him a chance to play for the Veto.

5:30 PM BBT – Feeds cut for Nominations.

6:58 PM BBT – Feeds are back. Howard & Spencer are on the block.

7:02 PM BBT – Andy, McC, & Amanda take turns dancing in the Storage Room. Upstairs Helen is celebrating with Aaryn.

7:20 PM BBT – Candice and Howard believe Amanda is pulling the strings on the nominations.

7:50 PM BBT – GM expects Candice to have a breakdown this week since she's a Have-Not, on her period, and Howard went up on the block.

7:55 PM BBT – Aaryn noticed her sister's letter was much more serious this time than last. She wonders what that was about.

8:35 PM BBT – Amanda tells McCrae she's in love with him.

9:35 PM BBT – McC confirms to Spencer that he's not the target but says it's unlikely that he could save Howard this week.

9:55 PM BBT – Aaryn explains to Judd his key was last on purpose, but it was to disguise that she's not really against him.

11:30 PM BBT – Howard calls an impromptu meeting in the kitchen. He announces that he doesn't want the game taken to a personal level and says he isn't going to change who he is for the game.

11:50 PM BBT – McCrae is very worried about the Veto competition. He thinks Howard will win it.

12:00 AM BBT – Aaryn talking about Howard swearing on the Bible. McCrae reveals he was the one who asked Howard to do it so he could believe him.

1:20 AM BBT – Jessie is feeling poorly so Judd puts her to bed and holds her for a bit. He can't stay though since he's a Have-Not

1:40 AM BBT – Amanda & McCrae wonder if Howard could be Danielle's (BB3) brother. He's not.

1:55 AM BBT – Andy & Amanda speculate about the MVP. Andy still thinks it's America voting.
Howard and Spencer are on the block with Howard as the main target. The Houseguests are anxiously awaiting the MVP reveal which will be made known on Saturday when the Veto players are drawn. If Amanda goes up on the block she'll probably be safe, but it'll make for a very dramatic few days. Keep watching to see what happens next!
You can watch all of these Big Brother 15 events using the archives flashback, the DVR-like feature of this year's Live Feeds which means it's always live, even when you missed it! Sign-up now to get the free trial to watch it all live & uncensored.
click images to see full-size