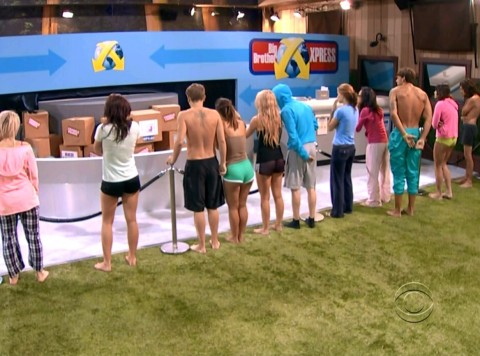 Another week, another Big Brother 15 blindside!
Actually, as far as blindsides go, the one this week is almost up there with Big Brother 8's Dustin's surprise eviction. And speaking of past seasons of Big Brother, the HOH outcome felt a lot like Big Brother 6.
The episode picks up right after Nick was named as the MVP's replacement nominee. But he's not sweating. He says he's got the Moving Company backing him up, so no worries. But Helen has other plans. "My goal is to see that Nick walks out that door and Elissa stays another week," she said.
So that plan is set into motion by a number of people including Helen, Candice and Amanda. So Helen goes to work on Andy. She tells him if Elissa goes home, neither one of them can win the game. He's cautious but when Helen reminds him that they'll still be after Elissa instead of them, he's on board.
Elissa gets to work on Jessie. She tells her that if Nick doesn't get evicted this week he will win the whole thing. That, likely for the first time this season, gets the wheels turning inside Jessie's head. They're turning very slowly, but turning nonetheless.
With that idea in Jessie's mind, Helen grabs her and helps seal the deal. It looks like that side of the house can add Jessie to their side.
Elsewhere, we've got Spencer doing his favorite thing and that's hating Amanda and all women in general. He's afraid that McCrae will let Amanda control his game, making things harder for the Moving Company. So he and Howard decide the best thing they can do is get him to cut her as soon as possible. But McCrae isn't ready for that.
So after that talk, he realizes he has to pick a side. Not only between Amanda and the Moving Company but who to vote for – Elissa or Nick.
It's time to check in with the houseguests. She starts by congratulating Jeremy on winning power of veto. And she gave him an open door to display his masterful cockiness.
Then Julie calls out Jessie for wanting to be in a showmance this summer. She asks her why romance is running rampant this summer. Basically they're all horny, Julie. Duh.
It's time for our weekly racism segment. And it's again all about Aaryn. Granted she's been the ringleader, but Big Brother needs to show the others. And we get Amanda telling Aaryn that she needs to be mindful of the thing s she says and Aaryn doesn't even take it in. She calls it "immature" and likens racism to being blonde and being called "Barbie."
"I wish I care more about this, but I don't," Aaryn says.
It's time for the vote. But first, the three nominees get to make their statements:
Elissa: "Nick's the bigger threat. Do you want to win Big Brother or do you want Rachel's sister out of the house?" Nice quote
Nick: He was cocky and seemingly tried to channel Dan.
Helen: Diplomatic and sweet.
The Votes
Jeremy votes to evict Elissa
Kaitlin votes to evict Elissa
Andy votes to evict Nick
GinaMarie votes to evict Elissa
Judd votes to evict Nick
Spencer votes to evict Nick
Jessie votes to evict Nick
Howard votes to evict Elissa
McCrae votes to evict Nick
Amanda votes to evict Nick
Candice votes to evict Nick
By a vote of 7 to 4 to 0, Nick has been evicted from Big Brother. And another blindside.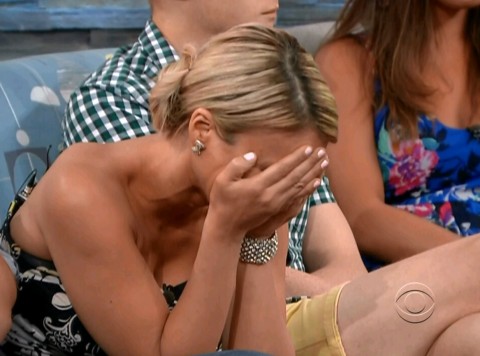 It's HOH time. Last night they were awoken throughout the night to play the memory game.
First out: Jeremy and Judd
Second out: GM, Andy, Spencer, Elissa and Amanda are out.
Third out: Candice is out
Tie breaker: McCrae is out
Tie breaker 2: Helen wins!
And obviously the other side of the house is not happy with that outcome. What did you think of this week's live eviction episode?