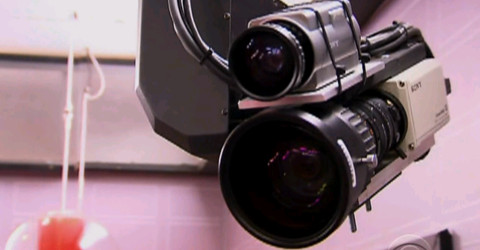 It was a critical day in the Big Brother house. Helen's plans rested on securing the Veto for her side's use while hoping for a backdoor opportunity. Once the Veto competition was over the tears flowed in every room. Meanwhile the "Hategate" was revisited with more denials in response.
Read about those moments and others on our Live Feeds highlights below. And remember that you can check out any of these moments by using the Live Feeds flashback/archive feature.
Big Brother 15 Live Feed Highlights – Saturday, July 13/ Sunday, July 14, 2013
6:25 AM BBT – Wake up, Houseguests! BB gets the HGs up extra early.

7:35 AM BBT – Amanda talking to Andy. She fears there's a special deal with Helen, Howard, & Elissa.

8:10 AM BBT – McCrae doesn't think Kaitlin will use the Veto if she wins it. Amanda plans to scare her by saying she'll definitely go home if she wins it but doesn't use it.

9:00 AM BBT – Feeds are back from picking the players. Spencer was revealed as this week's MVP nominee. GM & Candice are joining the Veto comp. Judd hosts.

9:10 AM BBT – Amanda reveals to Kaitlin that yes, Jeremy is the target and if she wins but doesn't use the Veto then she'll go home as retribution for blocking that plan. Kaitlin relays this to the Mean Girls and is sobbing.

10:00 AM BBT – Andy tries to console Kaitlin. He tells her if Jeremy goes home it's on him (Jeremy), not her. She says she knows she'll have to use it if she wins it.

10:35 AM BBT – GinaMarie is trying to dance in boots and falls down. She shouts, "oww, I landed on my liposuction scar."

10:50 AM BBT – Judd yells "it's time for the Veto competition!" Everyone jumps up and cheers. He adds "I was just practicing." And thus, Judd was never asked to host again.

11:30 AM BBT – Jeremy promises to leave in a blaze of glory if he gets backdoored this week.

6:10 PM BBT – After more than five hours the Feeds return from the Veto comp. Kaitlin won the Power of Veto. HGs competed in a puzzle race and performed individually, which is part of why it took so long. (Each player took around 10 mins or less, not sure how 6 times 10 mins works out to 5 hours though.)

6:45 PM BBT – Amanda, McC, & Andy worried she won't use the Veto. Amanda says she'll try to threaten her again that she'll go home. McC says it's disrespectful to the game to win and not use it on yourself.

6:55 PM BBT – Kaitlin confirms to Andy that yes, she will use the Veto to save herself even though she knows what this will mean for Jeremy.

7:15 PM BBT – Kaitlin goes to plead her case to Helen with the help of Andy. Helen is being painfully honest with Kaitlin. Everyone is crying. Helen saying there's no way around Jeremy leaving. Kaitlin basically asking if she has to vote him out too. The long conversation ends with them coming together and cheering. Weird.

7:30 PM BBT – Spencer trying to get Aaryn to tone down the racist commentary. He's advising her on what she might need to do to clear up being seen as a racist. Aaryn insists that view is "something made up about me" and "not even true."

7:50 PM BBT – Kaitlin confirms to Jeremy that he's going home after she uses the Veto on herself. She's upset but he's trying to calm her. He's actually being very laid back about the whole thing and encouraging her to stay strong. Jeremy is okay with going home this week. She asks if he knows how to spell her name so he can find her on Facebook. He tries, but gets it wrong. He quizzes her on his name. Kaitlin: "G…" Jeremy: "J!"

8:15 PM BBT – Helen updating Elissa on Kaitlin agreeing to work with them. Helen has promised Kaitlin safety from Elissa and now she needs Elissa to agree to that. Elissa is really going to get tired of being used as a tool of these HGs.

9:00 PM BBT – Aaryn says "being a bitch" is working for her and others will want to take her to the F2 as a result.

11:30 PM BBT – Helen warning Candice that Amanda will come after Howard next.

1:10 AM BBT – Amanda and Andy discussing Howard. Amanda has him very high on her priority list. Fears he has more control and support than Jeremy.

1:35 AM BBT – Helen says Kaitlin is owed a few weeks of safety for using the Veto so they can BD Jeremy.

2:30 AM BBT – Judd wants to see some girls go home next after Jeremy. He thinks Aaryn would be an easy eviction.

3:00 AM BBT – Jeremy tells Aaryn he'll make sure Kaitlin uses the Veto to make sure she is safe.
What a nuts day yet again in that house. Jeremy is currently on his way out the door, but these things change and if the house thinks his spirit is broken then they may take a risk and keep him, but I'd be surprised.
You can watch all of these Big Brother 15 events using the archives flashback, the DVR-like feature of this year's Live Feeds which means it's always live, even when you missed it! Sign-up now to get the free trial to watch it all live & uncensored.
click images to see full-size