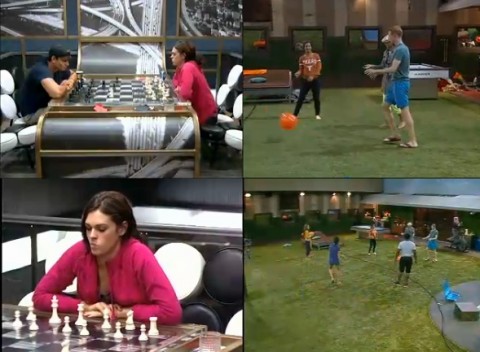 You know how the Live Feeds get really boring when the game dwindles to about the final three? That's how today's Big Brother 15 Live Feeds felt even though there are still 14 of them. I guess because Jeremy has accepted his fate and everyone is happy about there there's no reason for campaigning and/or fights.
So basically, the houseguests just hung out all day with some game talk here and there. And a few times even Aaryn presented herself as almost human. GinaMarie, however, is still GinaMarie. Oh, she does have a new addition to her Nick shrine we'll tell you about.
Read about all the moments from the house on our Live Feeds highlights below. And remember that you can check out any of these moments by using the Live Feeds flashback/archive feature.
Big Brother 15 Live Feed Highlights – Monday, July 15/Tuesday, July 16, 2013
3:02 PM BBT – Aaryn tells a story that she's sexually active with her fitness instructor and receives free classes as a result. "And then I met a trainer and he trains me sexual and violent and he stretches me and sometimes more and now I don't pay for classes." I'm not sure just what she means by "violent."

4:15 PM BBT – Amanda tells Judd and McCrae that they need to get Elissa out of there soon. It all sounds sketchy and confusing because Amanda she can't talk about why. It seems to have something to do with her protecting Howard. Amanda and McCrae later talk about Howard being related to Danielle from seasons 3 and 7.

5:00 PM BBT – Amanda says the Moving Company was actually a good thing because they all betrayed everyone and now all the guys are dropping like flies.

8:15 PM BBT – The girls are having a "nail party." Gripping stuff, folks.

8:45 PM BBT – Spencer says a bunch of disgusting things about Jessie that makes me hope production watches him closely.

8:48 PM BBT – Judd says that a girl needs to go home next week before all the guys are gone.

8:50 PM BBT – Spencer tells Judd he really wants to make it to jury.

9:00 PM BBT – Howard and Spencer say they don't believe that McCrae is MVP. They think it's still Elissa.

9:20 PM BBT – Amanda tells McCrae she's afraid she's really falling for him. She's also afraid of losing him in the game.

10:35 PM BBT – It appears GinaMarie is keeping an empty cereal box because Nick ate out of it. No, really.

11:00 PM BBT – Houseguests are playing volleyball in the backyard.

11:25 PM BBT – Aaryn informs Kaitlin that Helen doesn't see Spencer and Howard as a threat anymore.

11:40 PM BBT – Spencer going over vote counts with Helen. Kaitlin & GM against Spencer, but rest should be against Jeremy.

1:05 AM BBT – Amanda distributes GM's Nick shrine collection. They're going to hide her items as a joke.

2:29 AM BBT – Howard flashes the camera while changing.

2:30 AM BBT – GM is very upset and searching for her prized items. She calms down and Amanda helps her find everything.
As you can see, there wasn't much going on last night. The plan is still to send Jeremy out the door Thursday and there doesn't seem to be any doubts about that yet. Let's see if it stays that way.
You can watch all of these Big Brother 15 events using the archives flashback, the DVR-like feature of this year's Live Feeds which means it's always live, even when you missed it! Sign-up now to get the free trial to watch it all live & uncensored.