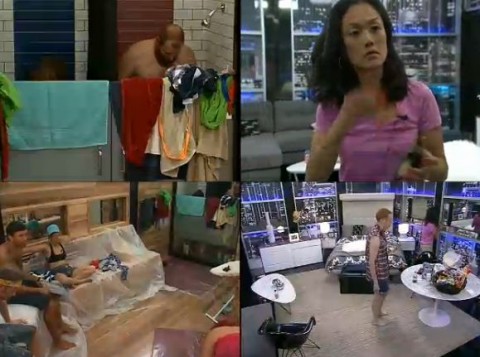 What an insane past day or two in the Big Brother 15 house. HGs have been flipping and they've been flipping out. After a horrible night of terrible treatment the HGs calmed down and focused on the next challenge: nominations. HoH Helen spoke with all the other HGs and worked to extract as much info as she could even though she was apparently already set in her nominations.
Read about those moments and others on our Live Feeds highlights below. And remember that you can check out any of these moments by using the Live Feeds flashback/archive feature.
Big Brother 15 Live Feed Highlights – Friday, July 12/Saturday, July 13, 2013
9:30 AM BBT – Helen and Elissa start going over the nomination plans. Helen says she'll have to BD Jeremy to have a shot at evicting him. Kaitlin and Aaryn are her current nom plans.

10:35 AM BBT – Howard promising his support to Helen and Elissa. They are very suspicious of him and believe he's the off-vote from Thursday.

10:45 AM BBT – Candice and Andy going over the horrible behavior from the Mean Girls on Thursday night.

2:02 PM BBT – Live Feeds return from the Have-Not comp. Amanda, McCrae, Jessie, and Judd are the HN's and they'll eat grapefruit and guac this week.

2:20 PM BBT – Helen making a deal with Jeremy to exchange protection. It's a private conversation in the HoH room, or at least it was until they find out Candice was in the bathroom and could hear them the whole time.

3:30 PM BBT – Helen talking with Howard and wants him to admit everything. He admits the rogue vote, but denies the Moving Company alliance. Jeremy already told her about the MC so she knows Howard it still lying to her. He sure picks some strange times to lie.

4:30 PM BBT – Helen having a heart-to-heart with Aaryn. Tells her she's going up but only as a pawn. Helen says she wants to possibly backdoor 3 HGs and they're all male (presumably she means Howard, Spencer, and Jeremy).

7:01 PM BBT – Feeds return from the Nomination Ceremony. Aaryn & Kaitlin were nominated. Just before the ceremony we had heard Helen saying it would be Howard & Aaryn, but earlier that morning she had told Elissa it'd be Aaryn & Kaitlin. Helen is hard to follow with so many different stories going. I hope she can keep track.

8:15 PM BBT – Helen is back in the HoH room with Andy, Amanda, and McCrae. She's confirming again she is going to BD Jeremy. If you see/hear Helen talking otherwise with Aaryn, etc., then keep in mind this is her real alliance here.

8:30 PM BBT – Spencer & Howard try to talk to Andy in HoH room but he blows them off and walks out instead. Now that he has leverage and they have none he seems to be enjoying the power of safety.

9:05 PM BBT – McCrae revealing the MC to Elissa.

9:55 PM BBT – Howard holds a "coming clean" talk in the HoH room to Elissa, Candice, Jessie, Spencer, Judd, & Andy. He's looking for a fresh start with this group.

10:30 PM BBT – Helen has rejoined the group and hears the talk from Spencer.

11:10 PM BBT – HoH crew pushing Elissa, this week's MVP, to nominate Howard. McC & Helen say they'll pretend to be the MVP this week to throw the house off from blaming Elissa for the 3rd nom.

11:30 PM BBT – McC announces that he is the MVP (he's not, it's a cover for Elissa).

12:15 AM BBT – Elissa reveals she nominated Spencer as the MVP nom. HoH crew upset with her for going against the Howard plan.

12:40 AM BBT – Amanda is very upset and telling Helen that Howard must have a deal with Elissa to keep himself off the block.

1:15 AM BBT – McCrae goes to Spencer and tells him he's been nominated. McC is still pretending to be the MVP this week.

2:05 AM BBT – Amanda telling Aaryn about the MVP situation. She's still very upset that Elissa didn't nom Howard. They eventually reveal all their alliances so far in the game.
Today is sure to be a complete mess of chaos in the house. The MVP nom will be revealed to everyone (though most already know) just before the Veto comp. All this drama could do well to distract from the real issue: backdooring Jeremy. If he doesn't get his chip pulled and doesn't win the Veto then there's a shot Helen can get him out. Then again it'll also depend on who is willing to take themselves off the block and create that vacancy for Jeremy. We've repeatedly heard Kaitlin say she wouldn't risk him going up, so she could be that bad of a player.
You can watch all of these Big Brother 15 events using the archives flashback, the DVR-like feature of this year's Live Feeds which means it's always live, even when you missed it! Sign-up now to get the free trial to watch it all live & uncensored.
click images to see full-size