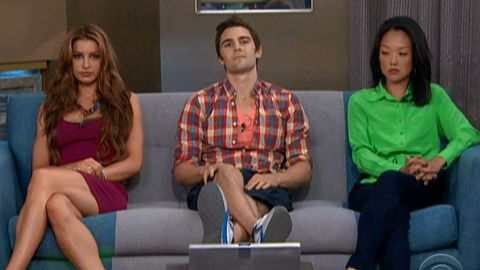 Tonight on Big Brother 15 episode 7, the results of the next live eviction will be revealed along with the results of the HoH competition. Join us on Facebook and Twitter!
This show is going to be awesome to watch. Since late last night the house has experienced a major shift in direction and it's going to catch one alliance completely off-guard. If you think last week's eviction was shocking to the HGs then you ain't seen nothing yet! The Feeds return right after the show so we can expect serious fireworks.

I'll be updating this post here with the live eviction and HoH results as it's revealed on the show. Have your Live Feeds (not signed up yet? use the Free Trial) ready to go because as soon as the broadcast is over the Feeds come back!
Meanwhile, join us in the Big Brother chat room as we watch tonight's live show!
Big Brother 15 Week 2 Live Eviction voting:
Jeremy: evict Elissa
Kaitlin: evict Elissa
Andy: evict Nick
GinaMarie: evict Elissa
Judd: evict Nick
Spencer: evict Nick
Jessie: evict Nick
Howard: evict Elissa
McCrae: evict Nick
Amanda: evict Nick
That's it. Nick is evicted.
Candice: evict Nick
By a vote of 7-4. Nick has been evicted from Big Brother 15!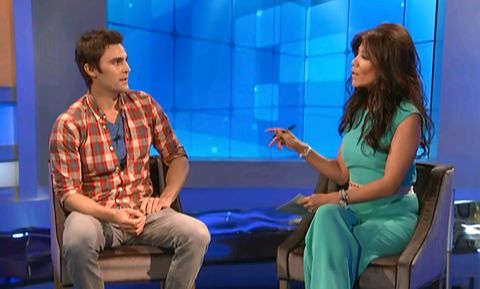 As I predicted earlier, Howard did not flip. He was too committed even though it was a lost battle. Spencer however was scared enough and saw the writing on the wall to change his vote and side with the new power in the house. This is going to be good!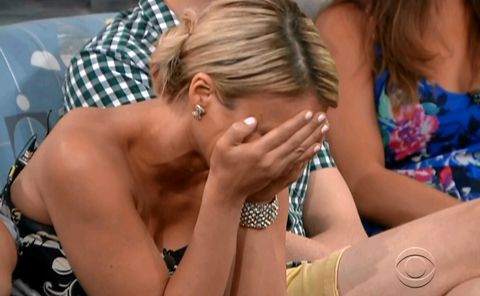 GinaMarie is straight up sobbing. Can't say I feel bad for her at all. It's so over the top. He was evicted, not executed, GinaMarie.
Julie has an excellent, frank conversation with Nick. For some reason she tells him Spencer was in control, but considering Spencer ran from his alliance in the final hours I'd say that's not true at all. Julie tells Nick he should have kissed Jessie and he could have at least gotten her vote. Hah!
Big Brother 15 Week 3 HoH Competition – 'Overnight Delivery':
HGs have to recall details from last night's wake-up & watch moments.
Round 1: False – Jeremy & Judd are out
Round 2: True – GM, Andy, Amanda, Spencer, & Elissa are out
Round 3: True – Candice is out
Round 4: False – everyone safe
Round 5: False – everyone safe
Round 6: True – everyone safe
Round 7: Tie-breaker! McCrae is only one to get it wrong
Round 8: Tie-breaker #2! Helen wins!
Helen got the second tie-breaker and just barely beat out Kaitlin!
Once the eviction show is over the Live Feeds turn back on and we'll be able to watch the house react! Make sure you're ready to watch the house react to who is in power. The nominations will be revealed soon, so stay close by!

Don't forget the next round of MVP voting is open. Who will you vote for? We'll have a new poll open in the morning.
Be sure to sign-up for the free Big Brother email updates, join us on Facebook, visit the Big Brother Forum, follow us on Twitter, and get our Mobile Apps.