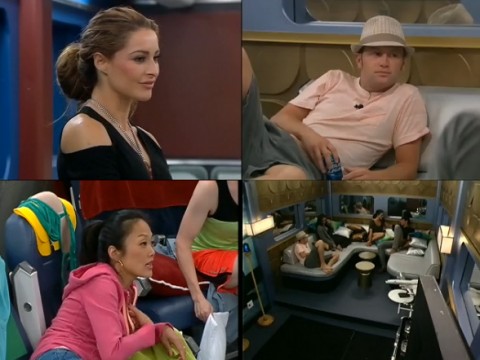 It was surprisingly mellow for a nomination night in the Big Brother 15 house after picking up where our Friday daytime highlights left off. There were some tears here and there, but no real blowups. That's sure to come after the MVP makes her nomination though. Speaking of which, a Diary Room leak revealed the MVP winner early. So we've got that highlight and more below.
Read about those moments and others on our Live Feeds highlights below. And remember that you can check out any of these moments by using the Live Feeds flashback/archive feature.
Big Brother 15 Live Feed Highlights – Friday, July 5/Saturday, July 6, 2013
7:43 PM BBT – Feeds return after a long break for the nomination ceremony. Everyone is standing around the kitchen hugging.

7:44 PM BBT – Helen is crying to Elissa in the Have-Not room. Aaryn has nominated them for eviction.

7:48 PM BBT – Aaryn says she pulled Candice and Howard last in the key draw because she "trusts them the least." Right. Sure that's it.

8:15 PM BBT – Helen tells Aaryn she has no hard feelings and throws the idea of working tougher next week out on the table.

8:30 PM BBT – GinaMarie crying and telling Nick how much she likes him and she tells him she just wants him to like her.

8:40 PM BBT – Kaitlin and Aaryn talking about the MVP's nom. Kaitlin and Aaryn think if Kaitlin is nominated and wins Veto she shouldn't use it because Jeremy will go up.

8:55 PM BBT – Kaitlin and Jeremy are making out in the HOH room. They start going a little further and the feeds switch.

9:29 PM BBT – Super fast Diary Room leak of Elissa sitting in the chair with the MVP envelope behind her. Looks like she won MVP again.

9:54 PM BBT – Candice again mentions the idea of the guys working together. She's getting there.

10:01 PM BBT – Elissa confirms to Helen that she won MVP again. She says she wants to put up Jeremy.

11:00 PM BBT – Elissa reveals she was given two hours to make her nomination pick. One hour left to go on that.

12:05 AM BBT – Amanda getting very jealous over McCrae having talked with Jessie. She's pretty upset with him. McCrae promises not to talk to her again.

12:30 AM BBT – Jessie drops a bomb on Aaryn. She tells her that Andy and Judd voted out David per Jeremy's instructions. They did. Aaryn reveals Jeremy promised her a Final 2 deal, but it doesn't sound like she believes it anymore. Hmm, could this be the end of Jeremy in the works?

1:10 AM BBT – Elissa and Helen discussing MVP renoms if Jeremy secures the Veto. Nick is their second option. Nick?
So Elissa and Helen are nominated and it looks like Elissa's MVP nomination will be Jeremy. Things could get pretty rough when he's put up. Elissa better be ready for a fight. And so should you. If you haven't gotten the Live Feeds yet, you can still do so before things get even crazier in the Big Brother house.
You can watch all of these Big Brother 15 events using the archives flashback, the DVR-like feature of this year's Live Feeds which means it's always live, even when you missed it! Sign-up now to get the free trial to watch it all live & uncensored.