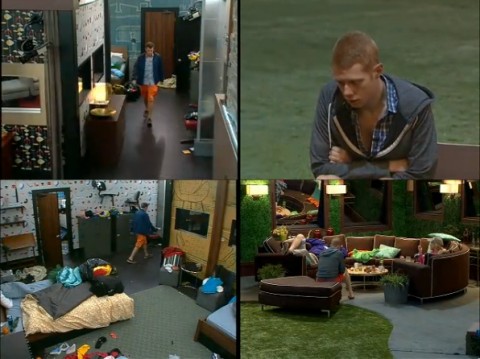 It was a long, slow day in the Big Brother 15 house. Much of the talk was whether or not Spencer and Andy are going to keep Judd and GinaMarie. They know their answer, but they keep rehashing it over and over and then every few hours wonder if they should go in the other direction.
Meanwhile, Judd is super paranoid and won't let up on asking if he's safe. It sounds like Spencer and Andy were asked not to tell Judd he's going home.
Read about those moments and others on our Live Feed highlights below. And remember to sign-up now for the Big Brother Feeds so you can watch any of these moments by using the Flashback archive feature.
Big Brother 15 Live Feed Highlights –  Monday, September 9, 2013
8:33 AM BBT – Feeds cut. Wake-up time.

9:37 AM BBT – Houseguests are getting ready for the veto meeting. Judd makes his final pitch to Spencer. He tells Judd he is going to put him up but he won't go home (lie). Judd thinks GinaMarie is going home.

10:28 AM BBT – Feeds cut for veto ceremony.

11:03 AM BBT – Feeds return. McCrae used the veto on himself and Spencer put up Judd in his place.

11:12 AM BBT – And so starts a conversation that wills seriously go in circles ALL day and ALL night. Spencer and Andy tell GM she's safe, then tell Judd he's safe. It goes on and on and on and basically it makes no sense for me to update it to you any further than this time. Just know that it happens about every 15 minutes.

11:28 AM BBT – Judd talks about making nice with McCrae. During veto ceremony Judd staged a fight with McCrae hoping Andy and Spencer will see that he wants to go after McCrae more than GinaMarie does. Andy sort of thinks Judd was faking it.

11:35 AM BBT – Judd and GinaMarie already have their suitcases. They suspect the eviction will be sooner than Thursday.

1:50 PM BBT – The HGs are on a lockdown and Spencer is locked in the HOH. They're freaking out over it, but Spencer is just writing his HOH blog.

2:02 PM BBT – Spencer got the HOH camera too. HGs start taking pictures.

2:24 PM BBT – GinaMarie is packing her suitcase.

2:35 PM BBT – Indoor lockdown is over. Nothing appears to be going on outside.

3:14 PM BBT – Once again Andy and Spencer are back to not knowing what to do about GinaMarie or Judd.

3:48 PM BBT – Spencer makes a BrenchelArmy jab that sets Twitter in an uproar. He asks them to commit a mass suicide.

4:28 PM BBT – McCrae and GinaMarie make a final two deal. They talk about getting Andy out before final three.

5:30 PM BBT – Spencer and Andy are back to definitely voting out Judd. They talk about how and when to tell him.

6:45 PM BBT – The group is back to talking about Elissa AGAIN.

7:52 PM BBT – McCrae knows if he doesn't win the next HOH he's in trouble.

8:30 PM BBT – GinaMarie has made dinner for everyone.

9:20 PM BBT – McCrae says he's avoiding Judd because Judd is acting so nervous.

10:30 PM BBT – Judd apologizes to Spencer for being so annoying about being on the block and fearing he'll be evicted again.

11:00 PM BBT – Backyard chit-chat going on. Nothing too exciting to talk about.

11:50 PM BBT – Andy studying with GinaMarie for what events took place in what order.

12:20 AM BBT – Spencer with Andy and GM discussing letting Judd down easy when they evict him.

12:45 AM BBT – Judd and Spencer still awake in HoH room chatting about things back home.

1:30 AM BBT – Everyone off to sleep to get ready for the big day on Tuesday.
So Judd will be evicted for a second time on Tuesday but we won't see it until Wednesday's special eviction episode. The Feeds are expected to go dark between sometime on Tuesday until after Wednesday's show. We'll keep you posted because when they come back we should know who the F4 HoH is for Thursday's eviction show.
You can watch all of these Big Brother 15 events using the archives flashback, the DVR-like feature of this year's Live Feeds which means it's always live, even when you missed it! Sign-up now to get the free trial to watch it all live & uncensored.
click images to see full-size