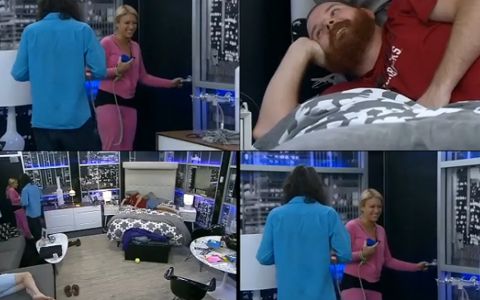 There are only five Big Brother HGs left and four of them are in an alliance which means we're not going to see nearly the same level of Friday night post-nomination contention we've enjoyed in the past. Instead we get to watch as the final alliance starts to chew on itself in anticipation of the next move.
Read about those moments and others on our Live Feed highlights below. And remember to sign-up now for the Big Brother Feeds so you can watch any of these moments by using the Flashback archive feature.
Big Brother 15 Live Feed Highlights –  Friday, September 6, 2013
5:28 PM BBT – Feeds return. McCrae & GM are nominated.

5:45 PM BBT – GM is sitting tethered outside the shower stall while McCrae takes a shower.

6:55 PM BBT – Spencer, Andy, & Judd talking about how dangerous it'd be to let GM to get to Final 3 with so many girls in the Jury.

8:05 PM BBT – McCrae and GM, still tethered, talk about how hard it'll be to win against Andy at the end.

8:30 PM BBT – Spencer and Andy alone talking what to do with Judd vs GM in case McCrae wins Veto. They'll shift to him if he wins Veto.

9:05 PM BBT – HGs wondering who will host the PoV comp since they're all playing. Julie said a former BB winner will be returning, so it'll probably be Hayden Moss to promote Survivor Blood vs Water.

10:10 PM BBT – GM and McCrae talking about Amanda and his post-BB potential relationship. He thinks he could move down to Florida and live with family. She warns him not to throw anything away over her.

11:59 PM BBT – Judd gets one final exercise punishment from the Drill Sergeant.

12:50 AM BBT – Andy and Spencer promising McCrae he is safe. Andy says if any of them win the Veto then Judd will go home. They also discuss how GM has the votes in Jury. Sounds like they're positioning themselves well in case McCrae wins Veto.

1:50 AM BBT – HGs all heading in bed and getting ready for Saturday's Veto comp.
Andy and Spencer appear to be splintering from the group, but if one of them wins Veto I imagine they'll still be sticking with the plan and sending McCrae on off the Jury. We'll find out what happens in that comp later on Saturday.
You can watch all of these Big Brother 15 events using the archives flashback, the DVR-like feature of this year's Live Feeds which means it's always live, even when you missed it! Sign-up now to get the free trial to watch it all live & uncensored.
click images to see full-size