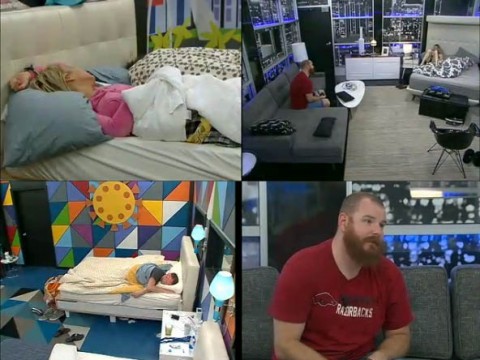 After last night's crazy Big Brother 15 Double Eviction, the houseguests were up late, so much of the day today has been spent resting. But there has been some important game talk going on between Andy and Spencer. They have to figure out what to do if McCrae wins veto. They have to pick between GinaMarie and Judd to go home instead.
Read about those moments and others on our Live Feed highlights below. And remember to sign-up now for the Big Brother Feeds so you can watch any of these moments by using the Flashback archive feature.
Big Brother 15 Live Feed Highlights –  Friday, Sept. 6, 2013
8:11 AM BBT – Judd's bell goes off. He has to get out of bed to do push-ups as part of the punishment he landed in last night's HOH competition.

9:13 AM BBT – Feed cut. Wake-up call.

9:37 AM BBT – Judd's drill sergeant makes him get up again to do sit-ups.

10:25 AM BBT – Judd has to again do push-ups. The drill sergeant says "My grandmother did better push-ups than you and she died 10 years ago."

10:48 AM BBT – More Elissa bashing going on.

11:05 AM BBT – Feeds cut to trivia for some reason.

12:27 PM BBT – Feeds return. Andy got to play for a chance to win $5,000. Spencer gave him the award based on last night's HOH. Andy only won $94.

12:44 PM BBT – Andy talking about his paranoia and how he followed everyone around to find things out.

12:51 PM BBT – Spencer and Andy talking about how McCrae cried more when Judd was evicted than when Amanda was evicted.

12:56 PM BBT – Andy thinks Amanda will be the most hated houseguest of the season. He also thinks America was MVP.

1:09 PM BBT – Drill sergeant makes Judd do lunges.

1:30 PM BBT – Judd leaves the HOH room to take a nap.

1:34 PM BBT – Spencer asks Andy if he should put up Judd or GinaMarie. They keep going back and forth with who they'd keep between Judd and GinaMarie. They have to figure out who they'd want to go if McCrae wins Veto.

1:57 PM BBT – Andy thinks they can trust GM more than Judd but Spencer mentions that they could beat Judd in the game if it comes to that.

3:30 PM BBT – Spencer and McCrae are talking. GM has to be on the other side of the door since GM and McCrae are chained together. Spencer tells him he's good. He's acting like he wants GinaMarie out so it'll be an all-guy final four.

3:35 PM BBT – Spencer tells Andy that McCrae doesn't think Andy voted Amanda out. He thinks the vote came from Elissa.
The only think we know for sure that will happen tonight is that McCrae will go up. Who will go up next to him is still up in the air. Regardless of the nominations, we don't anticipate any drama. That will only come after the veto competition tomorrow.
You can watch all of these Big Brother 15 events using the archives flashback, the DVR-like feature of this year's Live Feeds which means it's always live, even when you missed it! Sign-up now to get the free trial to watch it all live & uncensored.
click images to see full-size