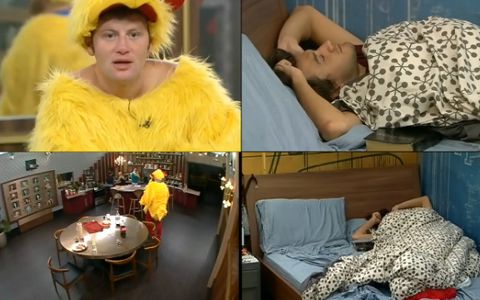 Nomination nights are always exciting for Big Brother and this week was no different at all. We finally saw someone take a swing at the power couple and while they might have said "it makes no sense!" the rest of us saw the Exterminators putting their plan in to action. Now it's time to see what the nominees decide is their next move.
Read about those moments and others on our Live Feed highlights below. And remember to sign-up now for the Big Brother Feeds so you can watch any of these moments by using the Flashback archive feature.
Big Brother 15 Live Feed Highlights –  Friday, Aug. 30, 2013
3:30 PM BBT – Amanda is confident Elissa will go up. She tells Judd if they keep the noms the same then Elissa will be evicted.

4:00 PM BBT – Amanda says GM will do what she's told her to so she won't be targeted next week. Amanda is excited about the upcoming nominations.

5:16 PM BBT – Feeds return. McCranda has been nominated. Amanda is crying and goes to bed.

5:18 PM BBT – Amanda saying it doesn't make sense. This will later become her mantra. She says she'd rather go home than see McCrae evicted.

5:20 PM BBT – Amanda up and on the attack. She's going after Spencer then Andy then GM.

5:25 PM BBT – Andy and Judd walk in on Amanda yelling at GM. GM staying very calm.

5:30 PM BBT – Amanda continues to yell at GM. She tells GM that the whole house will be pissed at her and coming after her. Amanda believes any of the guys will save them if they win Veto.

5:35 PM BBT – Amanda back downstairs and crying. She says she wants to go home.

5:50 PM BBT – Amanda still crying and upset. Saying it doesn't make sense and she wants to go and McCrae to stay. Amanda says she's over it and wants to go home now.

6:15 PM BBT – Andy tells Amanda he'll fight to win Veto. (No he won't.) She says she doesn't want to rob McCrae of his chance to play the game.

6:45 PM BBT – Amanda apologizes to GinaMarie for her earlier behavior.

6:55 PM BBT – GM again explaining to Amanda that everyone is alone, but Amanda has McCrae which makes them a threat.

7:30 PM BBT – McCrae is crying. Amanda tries to make him feel better.

8:00 PM BBT – HGs minus McCranda in the kitchen having dinner prepared by GM.

8:40 PM BBT – Spencer and Andy making up stories and building them off each other's. It's pretty hilarious. Andy jokes he had to work in the steel mill straight out of elementary school and already had a whole family at that age. They go on and on in different directions.

8:45 PM BBT – Amanda trying to comfort McCrae. She says they did everything they could. Couldn't do anything differently.

9:00 PM BBT – Andy bumps in to Amanda. Tells her he'll fight hard for the Veto. She still thinks she can trust him. No he won't.

9:20 PM BBT – Amanda goes up to the HoH room and cries to them wit her apology.

9:50 PM BBT – Amanda tells Andy and McCrae that she's ruining their game. She tells them to fight on when she's gone. I'd seriously consider keeping spirit-broken Amanda and send him McCrae at this point.

10:10 PM BBT – Amanda says she cried at the nomination ceremony.

11:15 PM BBT – Alcohol arrives in the Storage room.

11:50 PM BBT – Andy says his DR questioning made him think McCranda and Helen weren't popular with viewers. He became concerned over how he was viewed. Andy doesn't feel like Amanda gives him credit for keeping her in the game this far.

1:10 AM BBT – Andy and Elissa joking around in the HoH room. They make a silly flappy-hand shake that he'll protect her this week but is going to vote her out on Thursday. Lots of giggles.

2:00 AM BBT – HGs all off to bed. Veto competition ahead of them on Saturday.
The Veto on Saturday will be important, but not critical like last week. If either Amanda or McCrae wins the Veto then the other will go home. The votes simply aren't there to save them unless they work on some serious brainwashing plans this week.
You can watch all of these Big Brother 15 events using the archives flashback, the DVR-like feature of this year's Live Feeds which means it's always live, even when you missed it! Sign-up now to get the free trial to watch it all live & uncensored.
click images to see full-size