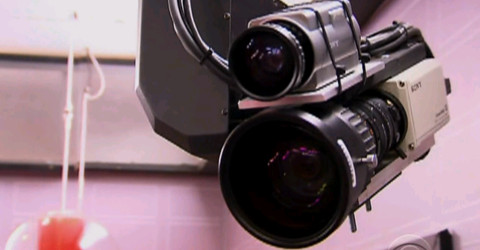 Things in the Big Brother 15 house continued to be a little more tame over night aside from the usual stank eyes and a GinaMarie meltdown that had her threatening to self-evict. You can catch up on the events from earlier on Monday here.
Read about those moments and others on our Live Feeds highlights below. And remember that you can check out any of these moments by using the Live Feeds flashback/archive feature.
Big Brother 15 Live Feed Highlights – Monday, July 1/Tuesday July 2, 2013:
3:40 PM BBT – GinaMarie is really upset because Big Brother took most of her clothes. Still can't get a handle on exactly why. This is just the start of her meltdown.

4:40 PM BBT – Andy is afraid the other side of the house will target him because they think he's in an alliance with Elissa and Helen.

5:43 PM BBT – Spencer and Andy are in the hammock talking game. They're sizing up Amanda and Helen.

7:27 PM BBT – Jessie is shadowing Nick and he's getting irritated with her.

8:00 PM BBT – Helen and Andy say Nick make them nervous and they want him out of the game ASAP.

8:10 PM BBT – Andy and Nick are in the hammock and GinaMarie comes up and very upset again and says she's going to quit the game. She says she's going to wait until Wednesday so that the eviction can happen as planned.

8:30 PM BBT – Nick is consoling GinaMarie in the It's A Small World Bedroom. She's spazzing out about missing home, being bored and not being around happy people. She's also upset that she doesn't have any clothes. She slips in a comment about production calling her mom to send her stuff before they cut the feeds. Nick finally talks her down from the ledge and she puts away the clothes she had laid out on her bed for packing.

8:55 PM BBT – Houseguests are all getting along and outside playing charades.

11:15 PM BBT – Aaryn hinting that she may shift to Jeremy if David wasn't around. Oh that'll be fun to watch.

11:40 PM BBT – Aaryn and David are breaking up. Awww, blpppphhhhh. Aaryn complains it's like pulling teeth trying to get him to talk. Funny, that's how I described our interview with both David and Aaryn.

1:00 AM BBT – Andy tells McC & Amanda that he is going for HoH this week, but would give it to Helen if it came down to it.

1:45 AM BBT – HGs around the hot tub bashing Elissa. GM still thinks Elissa is going. Most everyone else seems to know she's not.
It was a calm night in the house with most of the HGs now on-board to evict David and keep Elissa. It seems that only GM, Jessie, Aaryn, and Kaitlin will be surprised. Oh, and David, though I think he's starting to suspect.
You can watch all of these Big Brother 15 events using the archives flashback, the DVR-like feature of this year's Live Feeds which means it's always live, even when you missed it! Sign-up now to get the free trial to watch it all live & uncensored.
click images to see full-size