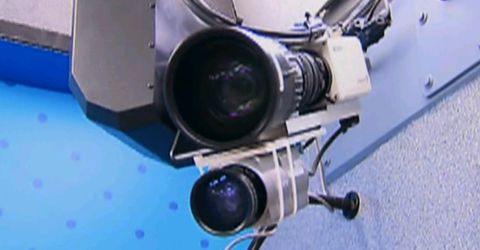 We're heading into our first full week of Big Brother 15 and with an eviction looming, things are starting to heat up in the house. Wait, starting? What am I saying? Things have been heated from the get-go. So today has been a pretty light and refreshing day on the Live Feeds.
Check out our Live Feeds highlights below and remember that you can check out any of these moments by using the Live Feeds flashback/archive feature.
Big Brother 15 Live Feed Highlights – Monday, July 1, 2013:
9:45 AM BBT – Jessie is the only person up. She's out back doing yoga following a morning cigarette.

10:50 AM BBT – Wake-up time. House is up and moving about.

11:00 AM BBT – McCrae, Amanda and Andy are in the HOH room talking about all the fights from the night before. Everyone seems to agree that Jeremy is an ass.

11:15 AM BBT – McCrae talks about wanting Aaryn out next week. Amanda suggests backdooring Jeremy as soon as the opportunity arises.

11:27 AM BBT – The Amanda and McCrae "showmance" continues as they start making out beneath the covers.

12:20 PM – Aaryn tells Jessie that Helen, Elissa, Andy, & another HG are in an alliance and they're main target is her (Aaryn). She says Kaitlin told her this and she was told by Jeremy who was told by Helen. That's a lot of hand-offs there. They still believe they have the numbers to keep David, but think Jeremy's actions last night hurt them overall.

1:35 PM BBT – Helen has a mini-breakdown. She's upset and crying. Elissa consoles her.

1:50 PM BBT – HOH camera time.

2:05 PM BBT – Kaitlin and Jeremy are talking about their argument last night. She's still upset with him.

2:19 PM BBT – Aaryn is planning on a more sane day and night in the house. Let's hope.

3:34 PM BBT – Amanda and McCrae think they can use Elissa to help them coast far in the game.
You can watch all of these Big Brother 15 events using the archives flashback, the DVR-like feature of this year's Live Feeds which means it's always live, even when you missed it! Sign-up now to get the free trial to watch it all live & uncensored.