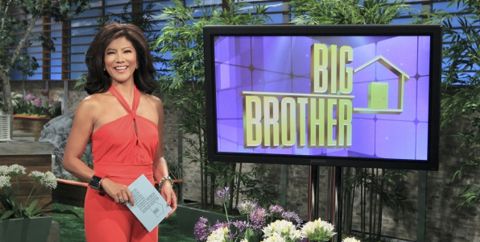 Tonight on Big Brother 15 (8/7c) we'll see what happened in the very first Power of Veto competition of the season and have confirmed to us what we already know: who won the Power of Veto. If you've been following our Big Brother spoilers then you're even ahead of tonight's Veto ceremony.
We're expecting CBS' Marcella Valladolid as tonight's "surprise" guest host for the Veto competition. Of course we called that on Friday from listening to clues from the HGs.
Hopefully things have settled down since this weekend's disturbing trend of events, but I wouldn't expect to see any of those scenes make the cut for tonight's show as production has said in the past they avoid including hate content in their broadcasts.
As for the upcoming eviction, most of the houseguests are ready for it while a few are still set to be surprised when host Julie Chen reveals the results.
We'll have to keep watching and waiting to see what happens because a lot can still happen before Wednesday's live Big Brother eviction.
If you haven't been watching the Live Feeds then you've been missing the real game and there's no way CBS is going to be able to show most of what's been done and said in the house. You can catch it all on Flashback which lets you jump to any day and any time in the season. Go ahead and try it for free then keep it for about 30 cents a day.
Stay connected to Big Brother 15 with updates by Email, Facebook, & Twitter.
Big Brother 15 Episode 3 Preview: