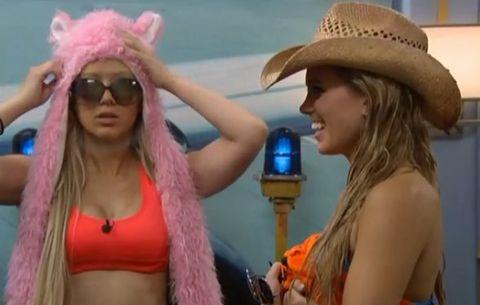 Updates: Aaryn Gries has lost 2 modeling contracts & GinaMarie has been fired from her job for their actions.
This is getting beyond belief. Still in its first week of Live Feeds, several of the Big Brother 15 HGs have taken to spewing racial and homophobic slurs like it's the next Head of Household competition and they don't want to let their Klan alliance down.
Things took off in a sprint this weekend with Aaryn, Spencer, GinaMarie, and Amanda all taking a turn at the trough of filth. Zap2It offers a thorough review of the offenses from Saturday alone. You'll find such gems as Aaryn suggesting Helen "shut up and go make rice," GinaMarie offering to hit Helen in the head to make her eyes straight, Amanda's "F*ggoty Ann," and Spencer calling Andy "Kermit the F*g."
Readers have asked, so I'll explain. Amanda & Spencer's comments were made to Andy's face because they (Spencer & Amanda) thought it was funny and "so over the top." GinaMarie's & Aaryn's comments have been in private, behind Candice's back in a more intentionally malicious way. You decide if those circumstances make an impact.
Sunday didn't fare much better despite all our hopes. Mid-day added David to the mix when he declared his bed sheets smelled bad because of "black Candice." Flashback to 4:40PM BBT 6/30 Cams 1/2 using the Big Brother Live Feeds to hear David make the comment and then laugh saying to Aaryn he's sure the cameras & mics got that. Yes, David, that's how it works. Aaryn tells David to be careful, but seems more concerned that he could be heard saying that rather than what he said.
Drive on to 6:25PM BBT to find Aaryn rehashing her dislike of people saying "axed" instead of "asked." This is a reference to her fight the night before with Candice when she corrected her mid-conversation for saying "axed." Oh Aaryn is only getting warmed up for the big show later.
Many of us have wondered why Big Brother production isn't stepping in to demand HGs stop this behavior immediately. It appeared as though that might have happened when Amanda does a production impersonation and says "HGs, do not make racial slurs against other HGs." Flashback to 7:30PM BBT. BB would have done this off-camera or in the DR, so we can't confirm, but if they did then it clearly did not take effect.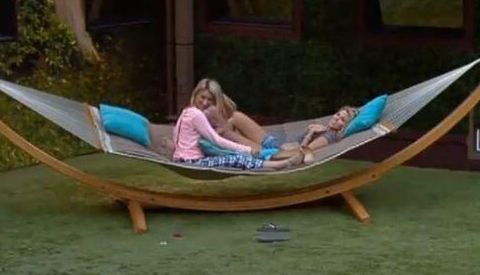 Just to remind you how clueless and offensive Aaryn & GinaMarie are you can Flashback to 7:44PM BBT 6/30 Cams 1/2 (use the Free Trial if you haven't signed up yet). GinaMarie and Aaryn discuss how much they want to win MVP. Aaryn searches for a camera and then smiles at the camera real big and asks us (the viewers) to vote for her as MVP. 84 seconds after asking for America's support GinaMarie says, in reference to discussing HGs against their alliance, "Candice is on the dark side because she's already dark." Aaryn smirks and laughs at this while Kaitlin looks away without saying anything. Not to be out done, Aaryn immediately replies "be careful what you say in the dark, you might not be able to see the bitch [Candice]." Neither Kaitlin or GinaMarie even flinch at this comment and immediately start discussing toenail polish.
I don't even know where to begin. This is two days in a row from Aaryn and GM and they're not alone. Do they think these sorts of things are okay and rational? How are the cameras and mics not at least a deterrent to at least verbalizing their racist feelings?
So much for Aaryn as America's little sweetheart and her hopes in last night's episode to win MVP at least a few times this season. While BB might not be able to remove players for bigotry, I wouldn't be surprised to see her suddenly become the house's new target for eviction next week in a move to clean house.
What do you think of all this? Are we and other viewers overreacting? Should we be able to expect some basic level of social civility in the game or is this a "freedom of speech" issue as one of our Facebook readers claimed? Discuss below in the comments.
Update: While there are far too many HGs doing awful things, not all of them are bad. It's important to note that many of the HGs have not involved themselves in this sort of behavior. Elissa has repeatedly expressed discomfort and being upset with these HGs. McCrae also took Amanda to task last night (Flashback to 10:10PM BBT 6/30) for her use of "Faggoty Ann" and Spencer's "Kermit the Fag" comments, saying it was wrong and should not be said or done. Please don't think all of these HGs doing the things described above.