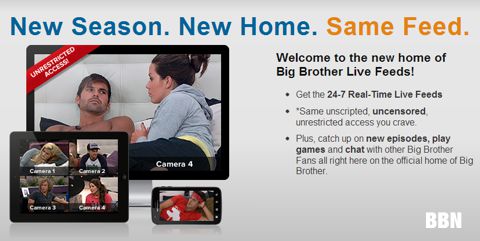 This year on Big Brother 15, for the first time in thirteen seasons, the Big Brother Live Feeds will not be on SuperPass through Real. Instead CBS will be hosting the Feeds directly along with the sign-up process.
The shift from what we're all used to has caused a lot of concerns and raising questions. We're hoping to answer those unknowns here and help get the word out over this season's new home for Big Brother 15 Feeds.
Do I need SuperPass to watch Big Brother 15 Live Feeds?
No. Not only do you not need SuperPass, you won't be able to use SuperPass to access Big Brother Feeds at all. Unless you wanted Real's other services on SuperPass there's no need to keep that subscription active.
You will need to sign-up through the new system offered from CBS to access the BB Feeds this summer. There is no other option.
Is there an Early Bird price this season? When does it end?
Yes, there is an Early Bird sale this season. You can get the BB15 Live Feeds at a discount if you sign-up for the season pass before the end of June 25th. The price is $23.99 for the entire season which means if you sign-up now you'll have access to Big Brother content for 4 months making it cost $6/month. Ridiculously cheap this year.
What plan options are available for subscribing?
There are three plan types for the 2013 season. Early Bird season pass is available until June 25th for $23.99. The regular season pass pricing starts June 26th and costs $26.99. There is also a monthly pass for $9.99 available starting June 26th.
Is there a free trial for the Big Brother Live Feeds?
Yes, CBS is offering a free trial period. We've seen conflicting details saying 3-days and 48-hours, so expect you'll get at least two days to test things out and see if you want to keep them. We think you will.
I'm getting an error when I try to sign-up.
If you can get the ordering page to load and you're using Internet Explorer then try a different browser. Users report having better luck with Firefox.
If you get an error message when entering your address then try leaving out the "#" as in an apartment number. Just use your street address.
Do I need to cancel my subscription at the end of the season?
No. CBS will not charge your credit card past the end of the season. If you signed up for the season pass, especially smart to do with the Early Bird pricing, then you're "one and done" with payments. There are no further charges. If you signed up for the monthly pass then you will be billed once a month until the season is over. Access will conclude on October 20, 2013.
You do not need to call at the end of Big Brother 15 to stop your subscription and avoid further billing. Nice, huh?
Will Canadians still be able to sign-up?
Yes! CBS has just opened up sign-ups for Canadians as well. More details here on Big Brother Live Feeds for Canada.
No. Unfortunately just as CBS blocks non-US visitors from viewing media content on their website the same will be done for the Live Feeds.
Will there be chat rooms with the Live Feeds?
Yes, CBS is offering exclusive BB15 chat rooms for members who have subscribed to the Live Feeds. These chat rooms will be integrated with the viewing experience so you can watch your Feeds and chat with other fans and friends at the same time.
What if I miss an event? Is the Flashback feature available?
Yes, Flashback has returned for Big Brother 15. This year it's called "Big Brother Archives." You'll be able to rewind the Feeds live like a DVR and see what you missed. As an added feature CBS will curate highlight moments as bookmarks so you can jump right to the action instead of searching on your own.
Can I watch the Big Brother Feeds on my iPad/iPhone/Android/etc.?
CBS has a detailed chart available showing which features can be accessed on which devices. You'll be able to watch the Live Feeds on your iOS phone and tablet and Android phone and tablet. So yes, that means iPads work with it. Mobile chat will be available on tablets, but not phones. The Flashback feature will only be available by computer access.
We don't have any details on Windows phones as that information isn't included in CBS's chart nor do we have one to test this against. Once the Feeds are up and running we'll welcome feedback from users who test access with their WP8 devices.
Is there an app to watch the Big Brother Feeds?
No. There is no app to watch the Feeds this season. You'll simply navigate your mobile browser to your Feeds login page and start watching. No app is required nor does one exist for that.
Can I watch Big Brother 15 episodes on the Live Feeds?
No, the Live Feeds are different from the BB15 episodes. Episodes are not shown on the Feeds. Instead the Feeds are showing what's going on in the house as it happens. You will be able to visit CBS.com and watch full episodes there after they air or on the iOS app available in the iTunes store.
When can I start watching Feeds & exclusive content?
The Live Feeds launch the night of the Big Brother 15 premiere (June, 26, 2013), but CBS will get the party started early with exclusive content available starting June 11th.
Do you have any other questions you'd like answered? Leave a comment below and we'll work on finding the answer for you.