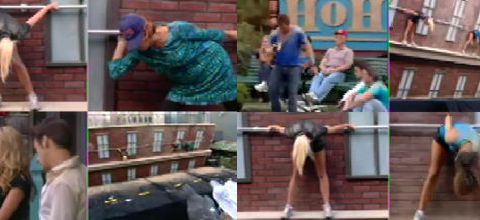 Tonight on CBS at 9/8c the next Big Brother 15 Jury member will be determined as the HGs prepare to vote in the upcoming live eviction show.
While we await a seemingly obvious result today the HGs remain on lockdown since at least yesterday evening. Such a long lockdown usually hints at an endurance comp.
GM said she could hear metal poles banging in the backyard, possibly for a complicated set up. Helen thinks it could be "The Wall" where HGs have to see who can hold on the longest (see the image above for BB10's "The Wall."). It's less complicated than the spinning barrel battle we watched a few weeks ago, but still a real challenge.
If it is a live endurance competition for the next HoH then the only place to watch it right after tonight's show will be on the Live Feed so sign-up now and have yours ready to go!
Don't forget to vote in our poll for the next to go as we wait to find out who was evicted tonight on Big Brother! We'll see you back here tonight for live coverage!