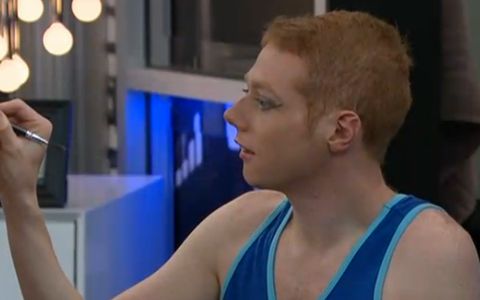 Andy was definitely enjoying his final night as this week's Head of Household last night on the BB15 Live Feeds. Capping off his reign Andy decided to try his hand at cosmetology with Aaryn and GinaMarie as his test subjects. Considering how things turned out the girls were surprisingly good sports about the whole thing.
Flashback on your Feeds to 8:55PM BBT 8/14 to find Aaryn getting the party started by giving Andy his own makeover before letting him turn the tables. Jump to 9:18PM BBT to watch as Andy works his magic on Aaryn. Ten minutes later you can find GM getting the same treatment with her makeover.
By the time Andy is done we've got a couple of ladies ready for hot dates on the town. Well, before DR has them remove all the crazy make-up. Come on, production, this would have been great for a couple of "what the heck?" segments to have them flash up on the screen looking like something out of a horror movie. Ah well.
click images to see full-size