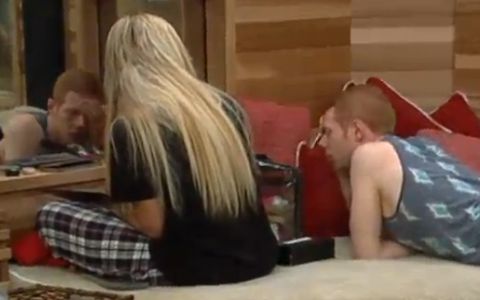 By the time things reach Thursdays the HGs have typically made up their minds about the upcoming eviction. Not so much this week. Earlier this afternoon a shocking discussion took place and made us think for a brief time that Helen might have ended up saving herself after all from a Big Brother 15 eviction.
Earlier in the day Helen spent a good bit of time talking to GM and coaching her on moves for the rest of the season. While it seemed like Helen was just being nice you can always assume Helen is working to influence the HGs. Whatever she said seems to have had an effect even if it was just a nudge to get GM thinking.
Live Feeds Free Trial: See what other fans are watching!
Flashback to 2:13PM BBT and you'll find Andy pulling up next to GM for a few whispers. Andy whispers that he's worried they're doing the wrong thing. "Do you think that we're making the right decision?" asks Andy. "No," replies GM. "I don't either," says Andy. They discuss that they might want to keep Helen instead. Andy heads off to corner Aaryn to talk about it. Aaryn has no vote, not even a tie-breaker, but whatever.
Jump to 2:20PM BBT and you've got Aaryn in the Lounge with Andy and GM. Andy asks Aaryn if they're doing the right thing. Aaryn says yes. Andy is worried that Spencer is a wild card. Aaryn thinks Spencer will go after McCranda. I don't think so. Andy says, "my gut is telling me we're making the wrong call." Aaryn argues that if Helen stays it only makes Helen stronger. They continue to debate the vote.
click thumbnails to see full-size image
A few minutes later Amanda busts in on the conversation. She wants to know if she needs to leave. Everyone feels obligated to start explaining themselves to Amanda like she's their boss. Aaryn tells Amanda that she didn't call this meeting. Again, they're all terrified of Amanda who has had zero actual power this entire season.
After Amanda leaves Aaryn says, "That was bad. That was bad." GM points out "how am I going to go home? She's never been HoH." So Aaryn is completely afraid of Amanda. How is GM the only one not scared of Amanda? It drives me nuts!
In the end Aaryn talks Andy and GM down from this idea. She wants Helen gone and they agree. Everyone falls in line and heads off to slaughter.
Tonight's HoH comp and the returning HG will be huge. Everyone will be fighting to win this if it's an endurance comp. We can't wait to watch it all play out on the Live Feeds. Get your free trial now and be ready to watch the fallout. This should be good!