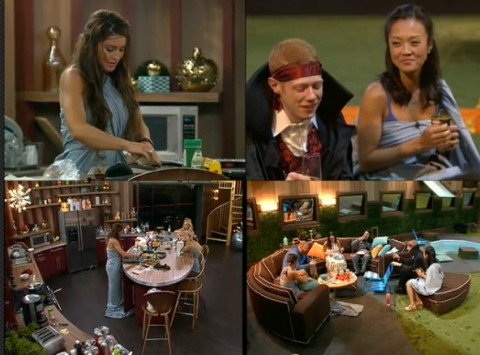 It was quite an eventful night in the Big Brother 15 house. Amanda and McCrae tied the knot Big Brother style and Jessie remembered that she's on the block and decided to do some damage control after all the fights she's gotten herself into the past two days.
Read about those moments and others on our Live Feed highlights below. And remember to sign-up now for the Big Brother Feeds so you can watch any of these moments by using the Flashback archive feature.
Big Brother 15 Live Feed Highlights –  Tuesday, Aug. 13, 2013
5:45 PM BBT – Jessie tells GinaMarie she is having a hard time right now. She says she's really depressed and really bored. She's sick of doing the same thing every day.

6:02 PM BBT – McCrae and Amanda are looking ahead to next week. They say Helen says the target will be Spencer. Amanda tells him they have two weeks to backdoor Helen.

6:36 PM BBT – Houseguests are starting to prepare for McCrae and Amanda's "wedding."

7:15 PM BBT – McCrae says to Andy that he doesn't want to do the wedding. He's acting strange about it.

7:24 PM BBT – Helen, Aaryn and Amanda are making food for the wedding.

8:18 PM BBT – Amanda is afraid Jessie will spoil the wedding.

8:37 PM BBT – Helen tells Aaryn she doesn't miss Candice as much as she thought she would.

8:45 PM BBT – Spencer tells McCrae that he hasn't washed his bed sheets at all since he's been there and Helen is wearing them to the wedding. Gross!

8:50 PM BBT – McCrae tells Spencer that Elissa would be good to drag along to the final 2 because no one would vote for her because they don't respect her and she doesn't need the money. Spencer says Aaryn in the final two wins the game.

9:05 PM BBT – Girls are doing hair and makeup and making togas for the wedding.

9:45 PM BBT – Amanda is all dressed and in her wedding toga. The others are getting their looks together as well.

10:04 PM BBT – Amanda and Jessie are talking. Jessie wants to apologize. Amanda helps her with how to approach it.

10:15 PM BBT – Amanda yells at Spencer to put on some better clothes for the wedding.

10:16 PM BBT – Aaryn tells Jessie that she's on her side and has been trying to get people to keep her.

10:18 PM BBT – Jessie and Helen exchange apologies. Jessie then tells Elissa she's sorry and thinks she's a great person.

10:20 PM BBT – Amanda screaming for BB to give them more alcohol for the wedding.

10:22 PM BBT – Wedding begins. Helen is serving as mother of the groom. Aaryn, Elissa, Jessie and GM are bridesmaids. Spencer is the best man and Andy is officiating.

10:43 PM BBT – Andy says he will not give them his HOH room for their wedding night.

11:25 PM BBT – Andy and Aaryn are talking alone and confirm their final two deal within their final four with McCranda.

12:30 AM BBT – Jessie working on McCrae for info on why the house would keep Spencer over her. Amanda joins them and says she thought Spencer was going (no, she doesn't) and that Jessie should talk to Andy. Jessie says Andy said to talk to HGs who are voting. Jessie just wants to know for sure whether or not she's going.

12:55 AM BBT – HGs discussing how much time they have left in the game. They're worried about someone from Jury coming back and say that would not be fair to jump ahead like that.

1:55 AM BBT – Jessie tries working Andy for a deal to keep her. He deflects the discussion and says he'll ask around tomorrow.

2:00 AM BBT – Aaryn and McCrae going over ways to get out Helen and Elissa.

2:24 AM BBT – McCranda fooling around. She gets something out of the drawer. A condom? They go at it for awhile and then it's sleepy time.

2:33 AM BBT – Amanda flashes her bare butt at the camera while rolling around under the covers.
Jessie might be doing damage control, but the plan is still to evict her this week. Of course they're all looking at Spencer already for next week, so if Jessie could think of a good move today or tomorrow morning, things could change. But probably not. These people have been very predictable.
You can watch all of these Big Brother 15 events using the archives flashback, the DVR-like feature of this year's Live Feeds which means it's always live, even when you missed it! Sign-up now to get the free trial to watch it all live & uncensored.
click images to see full-size