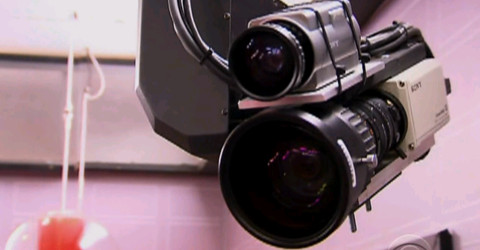 Coming down off a particularly unpleasant day in the BB15 things were a little more light-hearted for awhile. Later they fixed that with some good ol' fashioned racism. Sigh. What's wrong with this group? To be fair, they're not all bad by any means. Any way, let's move on and focus on happier things in the house. Like fighting!
Another fight broke out late in the night and once again it was between Aaryn & Candice over Aaryn's hate I mean, hat. Not to be outdone, Jeremy got in a fight of his own but it was really just him yelling at the house because he's paranoid that someone might be talking about him. Well, they are now, Jeremy.
Remember that you can check out any of these moments by using the Live Feeds flashback/archive feature.
Big Brother 15 Live Feed Highlights – Sunday, June 30, 2013:
10:00AM BBT – Amanda, talking with Andy & McCrae in the HoH room, questions why Nick spends so much time in the DR. They continue to talk strategy and who they don't want making it too far in the season (Aaryn).

10:45AM BBT – Same group still talking in HoH room. McCrae is adamant that he does not want to break any ties. Then again, McCrae also said he didn't want to win Veto, so who knows on that. All agree that they must get Candice on their side of the vote this week or it could all fall apart.

10:50AM BBT – Outside Spencer says to David, "Andy is cool. He's just a fruit."

11:15AM BBT – Spencer hangs out in the bathroom while Candice showers. Yeah, that's a little weird, but he is supportive about the fighting over Hatgate last night. Candice is still frustrated about it.

1:00PM BBT – Andy starts joking that they can finally be mean to McCrae now that he doesn't have any more power.

2:20PM BBT – Aaryn with David talking and conversation goes to what she said the night before. She admits she said things she shouldn't have. No kidding.

4:04PM BBT – David blames his smelly bed sheets on "black Candice." Then he laughs and says, "they're going to get that. That was totally racist." These people are mind-boggling.

5:00PM BBT – Gina still talking like Elissa is leaving this week. Elissa is probably the safest at this point.

6:25PM BBT – HGs sitting around the hot tub and talk turns to how Aaryn is annoyed when someone says "axed" instead of "asked," a reference to her argument with Candice where she corrected that.

6:50PM BBT – Aaryn & David start to kiss in bathroom. She suddenly jerks back and yells "no tongue on camera!" She won't let David do more than just a kiss in the house.

7:30PM BBT – Amanda jokes in a BB voice "HGs, do not make racial slurs against other HGs." Another HG gives her grief for saying that. It's possible the HGs were lectured for the things they've been saying recently.

7:45PM BBT – GinaMarie & Aaryn are camera-talking asking America to vote them MVP. Moments later GinaMarie says Candice is on the dark side (opposing side) of the house "because she's already dark." Aaryn responds about Candice saying, "be careful what you say in the dark, you might not see the bitch." These girls are disgusting.

8:15PM BBT – Judd joking about BB14's JoJo probably has a restraining order against him because he talks about her so much. Then he gives us, BBN, a shout-out saying we know what he means. We joked after our interview about how much JoJo was his type.

9:00PM BBT – McCrae, Amanda, Andy, Spencer, and Candice play a game in the HoH room where they have to toss a ball around the room and say a sex/dirty word as they work through the alphabet.

9:50PM BBT – Amanda is shaving McCrae and says he looks like a 14 year old again.

10:43PM BBT – HGs find alcohol in the storage room. They plan to wait on the Have-Nots since they can drink at midnight, but they don't wait.

10:52PM BBT – Nick is venting in the HoH room about his undercover work with the Blondentourage and how he's sick of having to listen to GinaMarie's "garbage pail mouth."

10:56PM BBT – Aaryn is called to the diary room because she was playing with a knife in the bedroom. They made her return it to the kitchen.

11:30PM BBT – Jeremy camera talks and tells Elissa's husband to get a divorce. He goes on to trash talk her for awhile about how ugly he thinks she is and wants to defecate on her face. Jeremy wishes ugly people weren't born. Might want to rethink that stance, Jeremy.

12:00AM BBT – Have-Nots are released and join the ranks of the eaters. There is much rejoicing.

12:22AM BBT – Jeremy starts an argument over the missing alcohol and tells the other HGs to blame him not anyone else for him drinking it all. Helen points out Jeremy is yelling at them while he's the one that was wrong.

12:45AM BBT – Kaitling yelling at Jeremy for being a jerk. He doesn't think he's done anything wrong. She expects David to be evicted now over this outburst. He was anyway.

12:55AM BBT – Fight breaks out between Aaryn and Candice about Aaryn's hat. Again.

1:00AM BBT – Helen is crying over being yelled ta by Jeremy. He apologizes and blames his drinking.

1:30AM BBT – Amanda, Andy, and Judd agree that things would be better with Aaryn gone.

2:15AM BBT – McCrae and Spencer discussing how long they'll keep Amanda. Spencer wants her gone by Jury.
You can watch all of these Big Brother 15 events using the archives flashback, the DVR-like feature of this year's Live Feeds which means it's always live, even when you missed it! Sign-up now to get the free trial to watch it all live & uncensored!
click images to see full-size