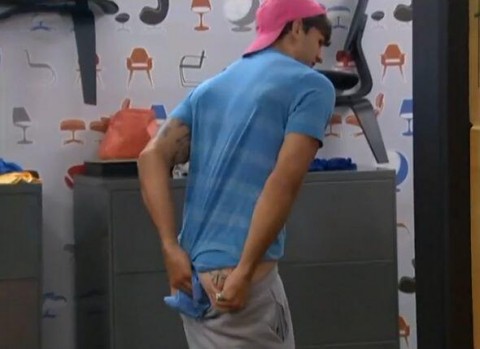 In comparison to recent events, it wouldn't take much to be considered a likable houseguest. Apparently that was too much of a challenge for HG Jeremy McGuire.
Last night on the Live Feeds, Jeremy closed out an inspirational speech for David, one of this week's nominees, by scooping up a hat belonging to another nominee, Elissa Slater, and rubbing it down his butt crack. First we had #Hatgate, then we had #Hategate, and now we have #Asshat (or #Hatgate2 if you prefer the mundane).
Viewers with the Live Feeds can flashback to 6:55PM BBT as listed in our Feed highlights recap for Tuesday night. There you'll find Jeremy encouraging David to keep fighting just before doing the deed to Elissa's hat. Ironically, Jeremy was not planning to vote to keep David during tonight's live eviction show.
Click here & get your Big Brother Live Feeds free trial!
Around 8:50PM BBT Jeremy is called to the DR and stays there for more than a half hour before emerging and holding a brief exchange with Elissa around 9:30PM BBT.
It's not until 11:15PM BBT that Jeremy tells Elissa what he did, though he scales back the truth and claims less than what really happened. He tells her the hat is being dry cleaned. Jeremy seemed legitimately concerned after his talk with the DR. Later Judd reported that Jeremy was unaware HGs could be ejected for behavior in the house.
These events may sound familiar to long time fans. BB2's Shannon used Hardy's electric toothbrush to clean the toilet, but was forced to apologize and replace it before Hardy had a chance to use it.
You keep it classy, Jeremy (and way too many other HGs too)!