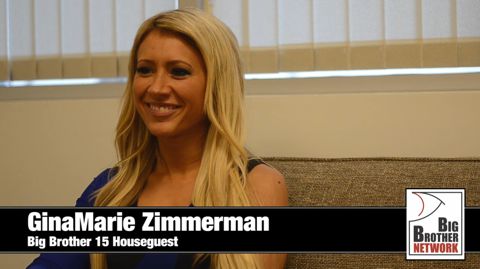 GinaMarie Zimmerman might want to put those post-BB celebration plans on hold. Following in the footsteps of Aaryn Gries being let go from her day job, GinaMarie has also lost her job.
Entertainment Weekly reports that East Coast USA Pageant Inc. is no longer employing the foul-mouthed Big Brother 15 HG.
"We have never known this side of Ginamarie or have ever witnessed such acts of racism in the past," CEO Lauren Handler said in the statement.

"We are actually thankful that this show let us see Ginamarie for who she truly is as we would never want her to be a role model to our future contestants."
GinaMarie has been repeatedly caught on camera delivering offensive racial slurs aimed at other members of the cast. Her "worst of the worst" offenses include referring to welfare as "n****r insurance," suggesting they could hit Helen Kim in the head to straighten out her eyes, and Candice Stewart was on the dark side of the house "because she's already dark."
CBS has said they "do not condone" these comments, but appear unlikely to take any action against the HGs for their behavior.
Let's hope for a quick exit and quiet trip to obscurity for Zimmerman.