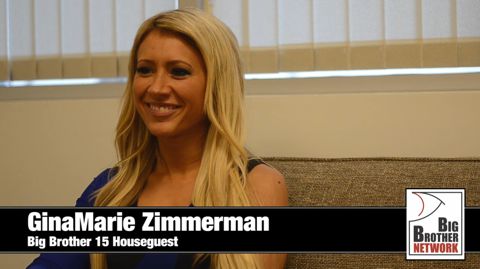 GinaMarie Zimmerman left Big Brother without a job and a rough reputation but she also left with a great big check for $50,000 as the season's runner-up. I spoke with GinaMarie her time in the house, that final night of surprises, and even about some of the vicious comments she made directed at the other HGs and beyond. Oh, and of course I asked her about Nick. Read on to see what she had to say.
Big Brother Network: Congratulations on your second place finish.
GinaMarie Zimmerman: Thank you so much. It's surreal. I've gotta tell you, I'm happy. I'm so happy.
BBN: I thought that was great, watching that because we've seen people come out after getting beat and being so down, but you really were a great sport about it.
GinaMarie Zimmerman: Andy's a really great guy. He's awesome and when we made it to the third round of the HoH and we had a deal to take each other. I was guaranteed a check so even if I didn't win the big prize I was getting fifty grand and it's still money in my pocket and a big honor. So you know people can't be greedy and I was super happy even though I got second.
BBN: Talking about that deal with Andy, are you saying that if you had won Round 3 you would have taken Andy as well?
GinaMarie Zimmerman: Yeah, you know what, it was a big toss-up. I won part one, I want to see where part two lands. With Spencer I thought I'd be able to beat him and have more Jury votes but when the time came that me and Andy were in it together it was a win-win situation, "you take me, I'll take you." Obviously guaranteed money. He kept his word and took me to the end. So hey, I'm happy about that.
BBN: Before the Jury votes were revealed, did you think you might have it?
GinaMarie Zimmerman: You know what, I knew I might have some, but I was kinda thinking some. I really thought he had gotten over me. I probably could have spoke a little better, maybe, but when the Jury asks you questions you kinda get bombarded and you think of a good answer and your brain just goes blank for a second. Some of those Jury questions were pretty rough. You've gotta be on your toes and think as fast as you can. Hopefully I made my point. Obviously it wasn't good enough and Andy won, but I'm happy.
BBN: Speaking of getting caught off guard on some questions. Amanda's question. Take another shot at that now that you've had time to think about it. What was your biggest move before getting her out?
GinaMarie Zimmerman: The only moves I made before that was to get Candice out. It wasn't such a big move, but at the time she was a target for many people. I wouldn't say that was my huge move so that's why I went back to the Amanda thing. I guess you were my huge move, Amanda. It was a twisted question because I guess I could say I didn't make big moves if that's what she wanted me to say. It was kinda like, Amanda, you know what my big move was. Any of my other moves were obviously something because you never got HoH!
BBN: You were the first one to take a concrete step against McCranda. Why do you think that was?
GinaMarie Zimmerman: I think it was a couple of things. A) For others it wasn't the right time. B) People didn't have the power to get them out. C) No one else had the balls.
Obviously everyone else wanted her out. She got voted twice for MVP nomination by America. In the long run, me and her are friends. We talked and things happen in the house only for game reasons, but I still think she's a great person. Like I said, only game moves.
It was the right time. I couldn't do it without the Exterminators. I have to tell you. It takes one to nominate, but you also need a team to back you up with votes and to continue to win competitions. It was pretty much just good timing.
BBN: Were you surprised to find out America was voting as the MVP?
GinaMarie Zimmerman: Ya know what, people think of crazy stories in the Big Brother house. Usually there was a little bit of a pattern and then it switched gears. Everyone thought it was America or evicted HGs. In the back of my mind I thought it might be America and that I was on America's side since Amanda got voted and not me those two times.
BBN: With Elissa winning the America's Favorite and you all clearly not being Elissa fans there in the last few weeks with all the rough talk at her, what are your feelings on that?
GinaMarie Zimmerman: You know what, I guess everyone was a little bitter saying she came in with a big fan base. Not to say she's not deserving of it, but I really think she's a great woman to be honest with you. I met her husband last night and really a straight up gentlemen.
I learned a lot with her. She did my hair, taught me about nutrition, but I think it's because maybe the money could have helped out someone. I mean, we could all use money so don't get me wrong, but I guess we kinda new it was going to her. But ya know what, she's got a great fan base. I applaud her and if she won then I give props. I congratulate her. I'm actually happy for her.
BBN: Looking back over the season, other than Nick's eviction, what's something you would change?
GinaMarie Zimmerman: I think I played a great game. I kept my honesty. I kept my deals. I always tried to do great in competitions even if I got stitches and broken bones. The only thing I'd regret or take back are the words I said when I offended or hurt anyone's feelings in any which way. If I did do that then I apologize and I'm sorry. I would probably take that back.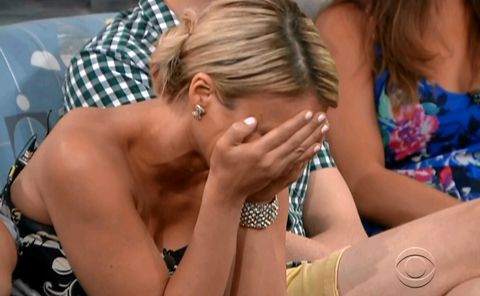 BBN: We've got to touch on that because that's a big thing this season. There was a lot of hate in there. You talked about being a very loving, heart of gold person, but then there were flip moments when you were a pretty cruel and vicious person. I was hoping to get your insight on that. What was going on there?
GinaMarie Zimmerman: I guess you could say someone pushes your buttons. The Candice fight where I nominated her, she was on the block, and pretty much knew she was going home. I figured she'd go out a little bit classier and just speak but not yell at Aaryn and myself. Then she was leaving and do low blows jabs at me living with my parents for financial reasons. So I guess if someone strikes at me then I just strike back. So nothing personal, it's only game.
Ya know we've apologized about it. I've seen her mom and I've apologized about it. I want everybody to think positive and be friends. So ya know if that was the only thing that I flipped the script a little bit. If I got some low blows then I just kinda brought it back to them. I shouldn't have done that. I probably should have just kept my mouth shut but I'm sometimes a little hot head Italian. I got a big mouth and I'm from New York. Sometimes I don't like to sit down when people yell in my face. Hopefully in the future we can all kinda laugh at ourselves cause we were all kinda, I was kinda stupid I guess you could say.
BBN: Tell us about Nick. We've heard he's already bought tickets to the monster truck rally in October. Are you planning to accept his inviation and what else is in store for you guys?
GinaMarie Zimmerman: We had planned that date because I've got the 90-day rule for if he'll kiss me after the show cause we didn't want to kiss or nothing crazy on camera. Ya know what, I'm excited. Nick's a great guy and I don't know what the future holds for us. If things work out and we date, fantastic. If they don't then I'm really great to be friends with him. He's super smart and amazing and if I get to be in his life by being friends then it's all good. I wish him the best and I know he's always had my back wishing me the best as well.
BBN: What's your favorite memory from your time on Big Brother?
GinaMarie Zimmerman: There were so many. I think there were more happy memories than sad and angry memories. The one that sticks out for me was when I gave up my seat at Helen's BBQ and we had the GinaMarie impersonation contest. I thought that was hilarious.
click images to see full-size views
I know people make fun of my accent, but I take it as a compliment. So if they could re-enact the way I act and people laugh and I can have a good time it's all in good fun. I think that's one of the brighter side memories. I like things that bring the house and groups together cause it takes you away from the game and makes you smile, laugh, and not think about it.
I generally do have a huge heart. I always try to be friends with everyone. I've got a of great friends and family back home and ya know, things that I might have said that were stupid that came out of my mouth, it was stupid of me and I've apologized several times. I hope people see the bright side of me and accept my apology and see the better things I do in life and the happy times.
BBN: What is next for GinaMarie?
GinaMarie Zimmerman: Oh my goodness. So obviously I'm out of a job right now. I still love dealing with kids. Hopefully someone's out there that wants a hard working girl. Maybe it's Hollywood or New York, if you need a hard worker give GinaMaria a holler. I work hard and I'm loyal. As long as you pay me, I'm happy!
BBN: Despite all the ugliness in this season you were an entertaining Houseguest and I appreciate all the fun you made for us and kept everyone watching.
GinaMarie Zimmerman: Thank you so much.
BBN: Thank you and good luck out there.
Watch our preseason interview with GinaMarie and see how the season turned out compared to what she talked about before heading in to the house this season.
GinaMarie Zimmerman Big Brother 15 interview: