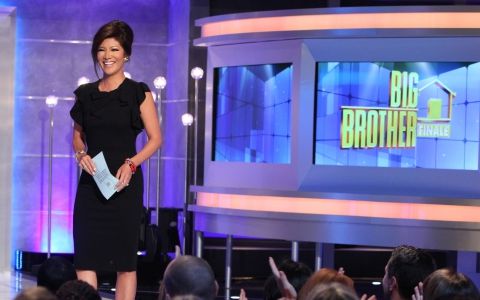 CBS has released a gallery of photos from last night's Big Brother 15 finale event where Andy made a surprising move in taking GinaMarie to the Final 2, but still managed to pull out the win and take home the half-million dollar prize.
Check out the photos below for a look at a not-so-thrilled Jury, Julie taking on the F2, a slightly bitter Spencer, and a surprisingly gracious runner-up in GinaMarie.
What was your favorite moment from last night's show? We had hoped for a zoomed in shot of Andy when America's Favorite HG was revealed, but Amanda learning that America was indeed the MVP voter nearly made up for that.
We've also got more pictures from last night's broadcast including shots from the competitions. That "Under the Sea" comp was no joke!
Share your thoughts below on the Big Brother season finale and take one more glance at the night's events. You can view the full gallery at CBS.com.
click to see full-size views
Photos: Sonja Flemming/CBS ©2013 CBS Broadcasting, Inc.