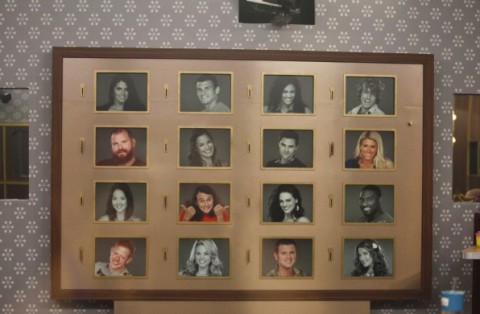 We learned who the Big Brother 15 Final Four are during Wednesday night's special Wednesday eviction show and if you're a Live Feeds watcher, then there should have been no surprises.
The episode picks up right after Spencer nominated McCrae and GinaMarie for eviction. GinaMarie is pretending to be the target to throw McCrae off.
And right away Judd figures out that if McCrae wins the veto and comes off the block, that he'll probably be going home. And that's true. Judd knows he can't really trust Spencer or Andy. And in case McCrae does win, Spencer and Andy work on getting McCrae to trust them. So they tell him what Judd is fearing, that he'll go up and go home.
Speaking of the Power of Veto, it's time to play the game. And it's hosted by Big Brother 14 winner Ian Terry. In super hero spandex, nonetheless. And it 's one ridiculously intense competition. It's actually the most ridiculous comp involving a puzzle that I'v ever seen. In the end, McCrae wins the Power of Veto.
And since McCrae won, the paranoia from Judd and GinaMarie sets in. Actually, it really just sets in with Judd. GinaMarie believes Spencer when he tells her he's safe. Judd, can't help but be suspicious. And after Judd throws a tantrum or two, Spencer does indeed put him up when McCrae uses the Power of Veto on himself.
We then get a bunch of editing that makes it seem that Judd screwed up his game, but Spencer and Andy knew who they were sending home all along, and it was Judd.
It's time for the vote. GinaMarie rambles on in her speech as usual. Judd tries his best, but it won't do any good.
The votes
Andy votes to evict Judd.
McCrae votes to evict Judd.
By a vote of 2-0, Judd is evicted from the Big Brother house. Again.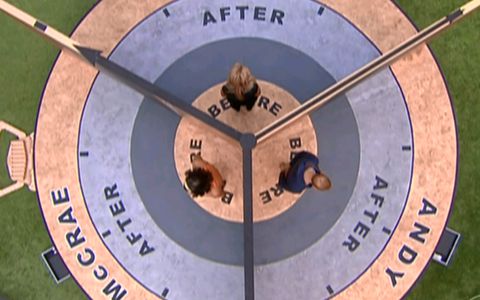 McCrae, GinaMarie and Andy head outside for the Head of Household competition and it's the Before or After competition. GinaMarie took an early lead but then it turns into a three-way tie. So in the tie-breaker, Andy, guesses closet to the answer and wins the Head of Household.
So that leaves us with Spencer, GinaMarie, Andy and McCrae. And by the end of Thursday night, we'll know who the final three will be. Who do you want to see heading to the finale next week?