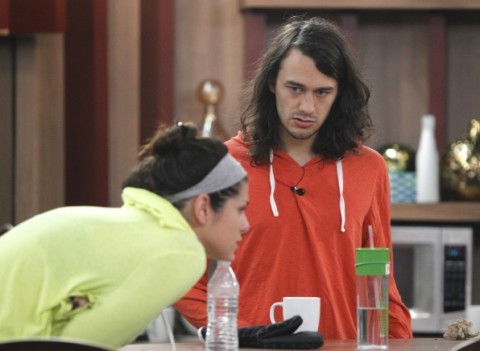 After a tense and fast Double Eviction episode of Big Brother 15, we were left with the final five of the season. And according to some fans on Twitter, it quite possibly might be the most disappointing final five in the show's history. But that's all a matter of option and neither here nor there.
The episode picks up right after McCrae used the Power of Veto on himself and Spencer was named as the replacement nominee. Spencer reminds us that he volunteered to go up on the block. Amanda, of course, is still confused as ( why GinaMarie wouldn't put up Elissa instead of herself and McCrae.
GinaMarie against explains to Amanda that she wants to break up the super couple. Amanda's response: GinaMarie is jealous because she never got to have a power couple alliance with Nick.
Amanda decides not to lay down and die so she goes to her only possible chance at staying. At that is surprisingly Elissa. Amanda lays out a plan to Elissa and how she, McCrae and Andy (even though Andy really wouldn't) would keep her safe.
So then magically, out of the blue, Elissa decides it's better for her game to keep Amanda. And then they make an immediate mistake by pitching the idea, including a final four deal, to Andy. And we all know that Andy is now with The Exterminators and he goes to Spencer and Judd with the news.
Andy's pitches his counter-plan to still vote out Amanda, but blame that vote on Elissa, making McCrae and Amanda think Elissa just made that deal to set Amanda up for a blindside.
And then we cut to the live show so Julie can tell the houseguests about the double eviction. And there's no time to spare, so Julie asks Spencer and Amanda to make their final pleas. And then the voting starts.
The votes
Judd votes to evict Amanda.
McCrae votes to evict Spencer.
Elissa votes to evict Spencer.
Andy votes to evict Amanda.
The vote is a tie. So GinaMarie has to break the tie. And GinaMarie has to break the tie. She decides to evict Amanda. And Amanda walks out with Elissa's wedding ring. But it turns out that Elissa will get her ring back because they played goodbye messages from Andy and Elissa that revealed their votes.
After the break, we get the live Double Eviction Head of Household competition. McCrae wins HOH and has to make instant nominations. He decides to nominate GinaMarie and Elissa.
It's time for the live veto competition. And it's a maze puzzle, just like the one Ian won at this point last season. Judd wins the Power of Veto. And Judd decides not to use it so the houseguests have to vote to evict either Elissa or GinaMarie.
The Votes
Spencer votes to evict Elissa.
Judd votes to evict Elissa.
Andy votes to evict Elissa.
By a vote of 3-0, Elissa is evicted from the Big Brother house.
So that means the Big Brother 15 final five are McCrae, Judd, Spencer, Andy and GinaMarie. Who do you want to win out of that final five?