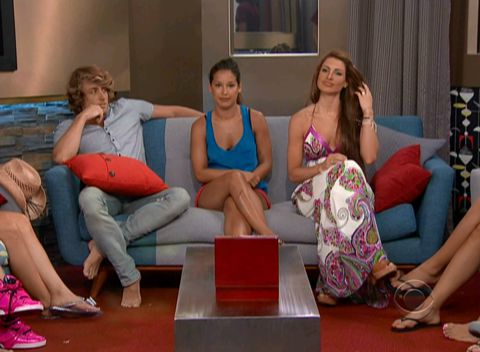 We got one step closer to our first Big Brother 15 eviction Tuesday night when officially learned who the BBMVP nominated and how the Power of Veto played out.
The episode opens right after the first nominations. Candice is crying and Jessie is on mini rampage in the Diary Room about their nominations. And Elissa is relieved that she was not one of McCrae's nominees.
Candice and Jessie decide to feel things out with McCrae, and while Jessie handles it the right way, Candice gets a little barky, which as we know is not the way to handle it. Because there's still a veto and a vote, she should tread more lightly. But that's what happens when houseguests haven't seen the show before are put in the Big Brother house.
As soon as the nominations buzz dies down, BBMVP talk starts. Jeremy and Jessie … OK,  basically everyone … is convinced that Elissa is going to win MVP because of who they think her sister is.
And to no one's surprise, Elissa was chosen as the first BBMVP. She has to nominate a third person for eviction and it's up to her whether or not she wants to tell the rest of the house. She has little time to make her nomination.
Elissa fills McCrae in on her MVP status hoping he will help her be more clear on who she should nominate. He throws out David's name because he's a physical competitor and not a member of McCare's Moving Company alliance. So Elissa plans to consider David as an option but she's leaning more toward Nick.
McCrae can't promise Elissa that he won't put her up if the Power of Veto is used. So Elissa instantly regrets telling McCrae about her power.
Showmance alert: We get an annoying moment between Aaryn and David on the hammock. David tells her he's still mooching off his parents and she seems surprised but I can't tell if she's annoyed or disgusted because she always sounds annoyed and disgusted.
It's time to find out who the third nominee is. The players photos start scrolling across the living room screen and it stops on David. He is the MVP's nominee.
And right after David joins Jessie and Candice on the block, it's time to pick Veto players. In addition to the three nominees and McCrae, Elissa and Howard are chosen at random draw.
David and the others are now digesting what happened. David feels betrayed and thinks the whole house is against him. Aaryn gets upset that David doesn't trust her and goes off and cries in a corner, well, the BB photo booth, but whatever. Same difference.
Elsewhere, McCrae wants a side alliance with Amanda, so in order for her to trust him, he tells her about Elissa being MVP. So they seal the deal on their alliance or whatever it might be.
It's veto time! This week's contest is a physical and spelling challenge. The players have to score letters by running through some thick honey-like crud then they have to spell the longest word to win veto. And as usual, everyone kind of sucks at this game. David didn't spell a single letter (which is a first in Big Brother history), Elissa spelled pot roasts as one word, and the longest word only eight letters long. That word was delivery and it was spelled by pizza delivery boy McCrae. So he wins veto.
Elissa decides to give McCrae another try with the whole not nominating her thing. But he's against a wall and if he doesn't do what the house wants, then he's going to make everyone mad and become a target himself.
A light bulb comes on over Nick's head and he starts the campaign to keep Elissa and get the threat, David, out. Nick thinks they can use Elissa's potential future MVP wins to their advantage while eliminating a big threat by evicting David. McCrae likes the idea as well but he still feels like he has to put up Elissa.
So that's what he does. He uses the Power of Veto on Candice and puts Elissa up in her place. But the target as of that moment is David. "Elissa has a lot of life left in this game," McCrae says in his final Diary Room session of the night.
What do you think of how this episode of Big Brother 15 played out? And if you want to find out what the HGs are thinking, hop on the Live Feeds to find out.