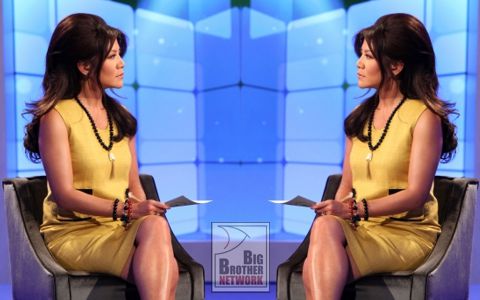 Tonight on Big Brother 15 we're in for a very special treat with a Double Eviction heading our way where not one, but two Houseguests will be evicted by the end of the night. Plus, Julie Chen has teased us with a big surprise and we can't wait for you to hear what she's going to reveal! Join us on Facebook and Twitter right now for updates!
I'll be updating this post here with the live eviction, HoH, nomination, and Veto results as it's revealed on the show. Have your Live Feeds ready to go because after the broadcast is over the Feeds come back! Not signed up yet? Get the 2-day Free Trial now!

Meanwhile, join us in the Big Brother chat room as we watch tonight's live show!
The show is kicking off and after some clips Julie reveals to the HGs that the Jury has been expanded to 9 HGs and that tonight's evicted HGs will both go to Jury. But here's the even bigger news: the jury members may get to come back to the game. Woohoo! More twists. More fun!
During the "save me" speeches Candice and GinaMarie break out in a yelling fight that not even Julie can get them to stop.
Big Brother 15 Week 6 Live Eviction voting:
McCrae: evict Candice
Aaryn: evict Candice
Helen: evict Candice
Jessie: evict Candice
That's enough votes. Candice is evicted.
Elissa: evict Candice
Andy: evict Candice
Judd: evict Candice
By a vote of 7-0, Candice is evicted from Big Brother 15. She's heading to Jury.
Julie tells us she can't give any information to Candice before she comes out. Her parting words to Candice: "You're off to the Jury house. It's goodbye for now, but there's a lot of summer left."
Big Brother 15 Week 6.5 HoH Competition – 'Summer School':
Round 1: Elissa is eliminated.
Round 2: Andy and Jessie are eliminated.
Round 3: Everyone is correct.
Round 4: Everyone but Aaryn is eliminated.
Aaryn is the new Head of Household. She did not want to win that. This is her third time as HoH. She has just a few mins to decide her nominations.
Julie announces the MVP twist is over. There will be only 2 nominations from here on out. Julie does not tell them America has been voting as the MVP.
Big Brother 15 Week 6.5 Nominations Ceremony:
Nominated: Jessie
Nominated: Spencer
Big Brother 15 Week 6.5 Veto Competition – 'Nailed It':
Competing along with the nominees & HoH: Amanda, Andy, & Judd. Players have to find the correct pieces to complete their puzzle. First to do so, ones the Power of Veto.
Wow. Well, Aaryn is having a good night. Or is that a bad night? She doesn't really want all this pressure and could have been safely laying low through all this drama.
Big Brother 15 Week 6.5 Veto Ceremony:
Aaryn saves Jessie and renoms Judd.
This looks very, very bad for Judd. Aaryn says the whole house but 2 HGs wanted her to do this. Earlier today this was brewing. We saw it coming.
Big Brother 15 Week 6.5 Live Eviction voting:
Amanda: evict Judd
McCrae: evict Judd
GinaMarie: evict Judd
Andy: evict Judd
That's enough votes. Judd has been evicted.
Helen: evict Judd
Elissa: evict Judd
Jessie: evict Judd
By a vote of 7-0, Judd has been evicted from Big Brother 15.
The Feeds will be back quickly and the HGs will have to soon compete in the next HoH. If you sign-up for the Live Feeds you can watch them prepare with the 2-day Free Trial.
What do you think of tonight's Big Brother results with the eviction & HoH comp? The second HoH competition is expected to be played out later tonight. We'll be watching the Feeds for spoilers on who wins and becomes the next Head of Household!
Update: The second HoH competition of the night was held hours after the eviction show ended. Find out who won HoH with our spoilers!
Be sure to sign-up for the free Big Brother email updates, join us on Facebook, visit the Big Brother Forum, follow us on Twitter, and get our Mobile Apps.