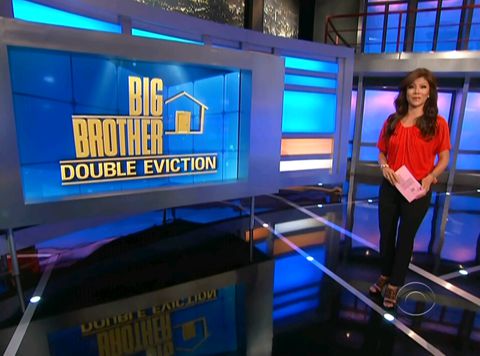 It was double eviction night in the Big Brother 15 house and it wasn't as predictable as I thought. Instead it was absolutely despicable.
From GinaMarie making an adoption jab at Candice on live television to Aaryn winning HOH and veto, to a completely random and unwarranted backdooring of arguably the only player in the house with the right combo of game play and integrity.
The episode picks up right after GinaMarie named Spencer as the replacement nominee. Spencer isn't too worried because he knows that Candice is the target. Candice, however, sees an opportunity to work on other people to get Amanda out. So Amanda feels like it's time to play nice so she doesn't take the target off Candice and plant it on her own back.
Amanda does her thing and she does it terribly. Instead of spending time being nice to everyone while she's on the block, she spends it trying to convince everyone that Judd is the MVP and needs to go out next. It's as if her on the block this week doesn't even matter to her.
Candice continues fighting to stay and send Amanda out the door. Jessie likes that idea too, so she starts working on the idea with Helen and Judd. Helen talks to Andy about getting Amanda out because they might not get another try. Andy is not too interested in taking part in this. So Helen shuts it down and that's that. Helen is queen, after all.
Julie cuts in to tell the houseguests that not only is there a double eviction, but they've already made it to jury.
Candice gets to let GinaMarie have it but we can barely make anything out because GinaMarie is yelling back. But it was still pretty awesome. Go Candi.
The first vote
McCrae votes to evict Candice
Aaryn votes to evict Candice
Helen votes to evict Candice
Jessie votes to evict Candice
Elissa votes to evict Candice
Andy votes to evict Candice
Judd votes to evict Candice
By a vote of 7-0-0, Candice is evicted from the Big Brother house.
It's time for the Head of Household competition. It's a quiz.
Order of finish:
Elissa is out first.
Andy and Jessie are out next.
Aaryn wins HOH. Again.
After just some fast deliberating, it's time for Aaryn to make her nominations. She decides to nominate Jessie and Spencer for eviction.
It's time for the veto competition. Playing along with Aaryn, Spencer and Jessie are Andy, Judd and Amanda. Aaryn won the power of veto. So she held ALL the power tonight. Aaryn pulls Jessie off the block and puts Judd up on the block.
The second vote
Amanda votes to evict Judd
McCrae votes to evict Judd
GinaMarie votes to evict Judd
Andy votes to edit Judd
Helen votes to evict Judd
Elissa votes to evict Judd
Jessie votes to evict Judd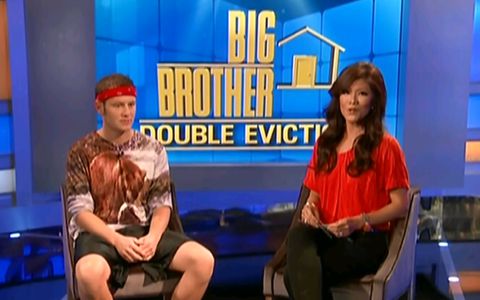 By a vote of 7-0 Judd is evicted from the Big Brother house.
Judd was blindsided by a house filled with paranoid people for something he wasn't guilty of. Helen was heard telling Aaryn she is now Janelle for making the biggest move in the house. Helen couldn't be more wrong. Not when Amanda was presented to them on a silver platter for two weeks in a row and Judd walked out the door tonight. Despicable.
The second HoH competition of the night was held hours after the eviction show ended. Find out who won HoH with our spoilers!