Big Brother 15 gives America a power and you totally do something crazy with it. I don't know if I'm confused, amused or annoyed. I think I'm a little of both. Good job, America!
Of course I'm talking about America voting Elissa as the third nominee this week, as we found out on tonight's episode. Of course most people are speculating that Aaryn and Kaitlin got more votes but were already nominated, so it went to the person third in line. Then there are the people who think Elissa fans were confused and thought they were again voting her for MVP. Which makes the most sense to me because how else can you go from winning MVP to winning an eviction nominee?
The episode picks up right up after Judd nominated Kaitlin and Aaryn for eviction. Judd says he decided to make those nominations so he wouldn't ruffle any feathers. Howard is happy he wasn't a target and Aaryn is confused as to why Judd called her a "Texas tornado."
He tells her later that he was just messing with her and that the plain is to backdoor somebody. He tells her that the veto will need to be used so that she or Kaitlin can come down and someone else can be backdoored.
And we get from Amanda's Diary Room that HER plan is to backdoor Howard. Haha.
It's time to find out that Elissa did not win MVP this week. Elissa is nervous and freaking everyone out because she's acting weird.
And then CBS reminds the viewing public that Spencer exists and that he and Howard are still trying to play the game despite their excessive failures. Spencer tells Howard that with Amanda and Elissa gone, the two of them could run the house. Right, Spencer. Keep telling yourself that.
And so Spencer and Howard decide to start the new alliance. "We're still the Moving Company, baby," Spencer says. Really? You're still trying to make the Moving Company a thing? Can I turn my TV off now and stop the recap here? OK, OK, I'll keep going.
Spencer and Howard meets with Kaitlin, GinaMarie and Judd to propose a new alliance and go after Amanda. The group makes the deal and it looks like they're good to go as an alliance. But is this one legit?
The houseguests are now ready to find out who this week's MVP nominee is. And much to everyone's shock, the nominee is Elissa! Very peculiar, as I mentioned already.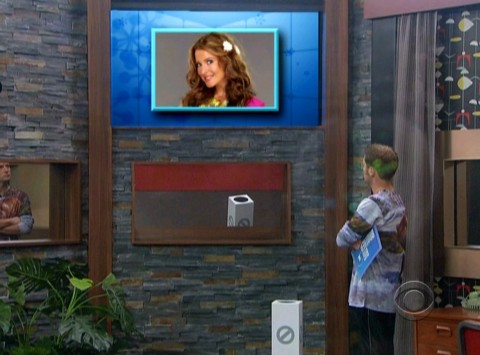 Helen and McCrae are picked to play in the veto alongside Judd, Aaryn, Kaitlin and Elissa.
But before we get to the veto competition, the house has to freak out and try to figure out who this week's MVP was this week and nominated Elissa. She thinks it's GinaMarie so when GinaMarie tries to console her she tells her to stop. So then GinaMarie swears on the Bible and then Elissa decides she just wants to go home. Candice reminds Elissa that Rachel was a target every week too and ended up winning Big Brother 13.
Elsewhere, the house is wondering if Elissa nominated herself. Luckily Amanda brings some sense to the table and suggests that it probably has something to do with the twist Julie mentioned during the last live show.
It's veto competition time. And the players have to crawl through sludge to look for veto votes to submit to ballot boxes. But not only votes are hidden in the mud. McCrae wins $5,000 but has to sacrifice some veto points. Judd gets 18 votes but along with it comes solitary confinement. Elissa finds a ballot worth 20 points but it also means she can't play in the next veto competition. Helen finds a ballot worth 10 points but it's paired with a punishment that forces her a curfew of 8 PM.
Helen: 29 votes. Kaitlin: 25 votes. McCrae: 20 votes. Aaryn: 32 votes. Judd: 38 votes. Elissa: 40 votes. Elissa wins the Power of Veto.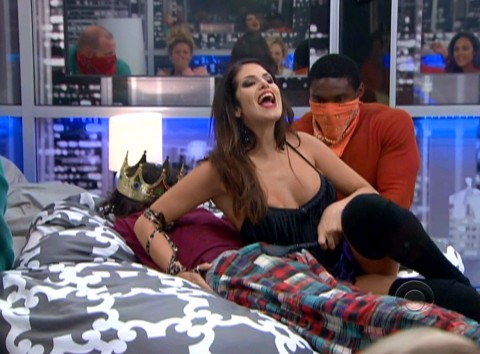 Drama alert. Elissa hurts Amanda's feelings over the birthday spanking she gave McCrae and Elissa gets a pretty bad edit because of it. Of course you don't get to see everything that happened and I can't really recap something that CBS didn't air, so I'm just going to move on right now.
At the veto ceremony, Elissa decides to use the Power of Veto on herself. So the screen starts rolling again with all the houseguests photos and this time it stops on GinaMarie. America, thank you.