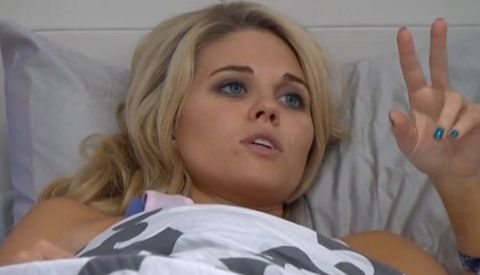 Another week, another round of voting on Big Brother 15. This week's eviction shifts to Thursday so the HGs have one final full day to campaign before votes are set and another HG walks out the door to meet Julie. We've been watching on the Feeds and have an idea of who is going to be sent home next. Read on for the spoilers.
After Monday's Veto Ceremony we were left with a final set of three nominees including Helen, Elissa, and Nick. Nick became the MVP renom after Jeremy saved himself with the Veto. Eleven votes will be split between these three HGs, but right off the bat I think we can toss Helen off the list. No one is discussing voting against her and unless someone gets frustrated and throws a vote her way she should come out clean. The first HG to reach six eviction votes is done and gone.
The votes between Nick and Elissa could be close, but I'm still saying it looks very bad for Elissa. She made a risky decision riskier by renoming Nick instead of Kaitlin who was even more likely to be evicted than we originally realized.
Nick has the support of the Moving Company alliance plus the Mean Girls thanks to GinaMarie's obsession with Nick that's never going anywhere, but don't tell her that. Those votes right there keep Nick safe. They will include Howard, Jeremy, McCrae, Spencer, GM, and Kaitlin.
On the other side of the house, Elissa is currently looking at supporting votes from Amanda, Andy, Candice, Judd, and possibly Jessie. That's only five and that's if she can pull all five of them.
Amanda wants to keep Elissa for the MVP control, but McCrae could work on her. Andy really, really wants to keep Elissa and has been working Spencer especially hard but with no success. Candice seems flexible, but since she's in an alliance of sorts with Helen and Elissa I'd expect her to stay with Team Elissa on this one. Judd is with Andy on this one, but he also really wants to be part of something bigger and if he discovers the deck is stacked against Elissa he could drop support. Then Jessie just promised Elissa support last night, but in a very conditional manner. Like Judd, Jessie really wants to feel included and could jump at the chance to rejoin the Mean Girls who ostracized her in recent days.
If Elissa leaves the game on Thursday as I expect then she lost it on her own terms. She made a solid pick last week with David as the MVP, but blew it twice this week with Jeremy then Nick. She doesn't know about the Moving Company, but going back to that same well for a renom was her fatal error in Big Brother 15.
How do you think the votes will turn out this week? Is Elissa doomed or can she survive a second week and watch her MVP nom walk out the door? Share your thoughts.