I don't remember having ever seen this much action this early in Big Brother, but these Big Brother 14 HGs are not here to disappoint. Instead Tuesday was filled with some intense fighting, arguing, backstabbing, and straight up lying. If you're not yet watching this live & uncensored on the in-house cameras then you're missing the real game.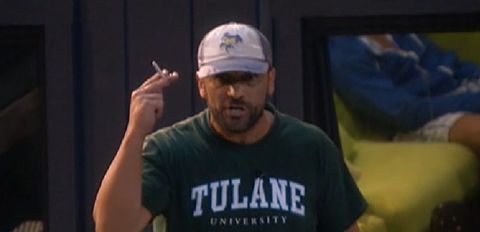 The main event of the night can be traced back to earlier drama when rumor spread that Willie had slurred and mocked Wil for being gay. Frank made this claim to Joe who spread it all over the house like wildfire. Soon enough Wil was crying and the house was calling for Willie's head. Only problem here is that Willie didn't actually do what Frank is claiming. Flashback to 2:13PM BBT on Cam4 for the conversation between Frank and Willie. Willie makes a comment about Wil taking 24 hours off from the game and does it in a slightly raised voice while waving his hands. Willie did not do a limp wrist impersonation or make derogatory comments about Wil. All the same, truth has no relevancy in the Big Brother house. It only matters what people believe.
Jump ahead to 10:15PM BBT on Cam2 to find Willie, Britney, Ian, Ashley, and JoJo discussing Frank's accusations. They realize it's spread all over the house as Frank has been telling everyone. His motivation is unknown since they thought he was safe. Problem is that obviously Frank didn't think he was safe so he caused this drama.
Now for the main event. Flashback to 10:25PM BBT on Cam3 to find Willie yelling, shouting, and waving his hands in the air at Frank. Warning: there's a lot of rough language being thrown around. Frank calls Willie out for trying to get a split vote so Frank sees Willie as his tie-breaking savior while going after the other side for revenge. Willie avoids the topic, but Joe admits telling Frank this information. Willie keeps yelling and telling everyone to keep Kara and vote out Frank. Meanwhile Frank calls out Willie for promising him safety but turning around and nominating him. Things get real ugly.
The fighting continues for a good 10 minutes before Boogie jumps in and attacks Willie for acting like a king over the rest of the HGs. Boogie hammers Willie on bullying HGs and acting on the suspicion that the Coaches are going to play the game soon. Of course that drama created its own house meeting earlier in the day.
To wrap everything up, Ian comes outside and offers to share his DiGiorno pizza. It's just what they need to break the tension, but the damage is done. Big Brother 14 is on fire and I don't see any signs of it stopping anytime soon.
Oh, and Willie dropped the "N" word at 10:10PM BBT on Cam1 when he says "I'll knock a n—a out… I'm not trying to slur." You stay classy, Willie!
If you missed this fight then you can still watch it like it's live. Did you know the Live Feed Flashback works like a DVR? Pick any day, time, and camera to watch it over and over. Check it out with the Free Trial and see what other Big Brother fans are seeing.
Click images to see full-size