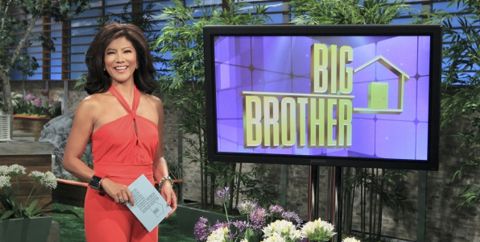 Tonight on Big Brother 14 we'll see what happened in the first PoV competition of the season and have confirmed to us who won the Power of Veto. If you've been following our Big Brother spoilers then you already know who won and whether or not it was used!
These BB14 HGs have had a crazy couple of days between house meetings, wild accusations, and fights blowing up in the backyard. I don't know how they can keep this up all summer. If you haven't been watching on the Live Feeds then you've been missing some incredible action.
The tension has been building this week and we could be marching toward a little uncertainty on Thursday night. One nominee looks like a lock for eviction until five minutes later when it seems like the other could have just landed in the hot seat. We'll have to keep watching and waiting to see what happens because with a lot of time left until Thursday's live Big Brother eviction, anything can happen.
If you haven't been watching the Live Feeds then you've been missing the real game and there's no way CBS is going to be able to show most of what's been done and said in the house. You can catch it all on Flashback which lets you jump to any day and any time in the season. Go ahead and try it for free then keep it for just 50 cents a day.
Update: Here are a couple of new video clips posted below for tonight's Big Brother 14 episode including a preview of the Veto competition "Loose Change."
Stay connected to Big Brother 14 with updates by Email, Facebook, Twitter, & our Apps.
Big Brother 14 Episode 3 challenge – Loose Change:
Big Brother 14 Episode 3 preview: