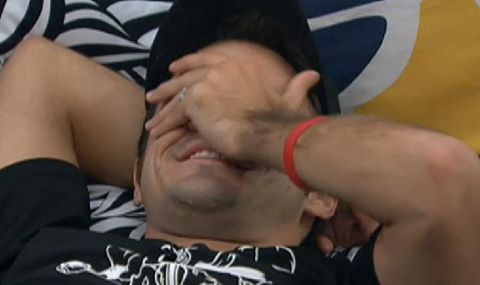 Winning the Veto when you're on the block should make for a no-brainer sort of situation. If you're nominated and you have the power to save yourself then you do it. Anyone would. Well, almost anyone.
So that's where we are today on Big Brother 14. With so few HGs left in the game there aren't many options but the choices are clear so let's take a look.
Shane and Jenn are this week's nominees thanks to Dan's quick wit and methods in avoiding the chopping block. In an ideal world for Dan, he or Danielle would have won the Veto and kept the nominations the same leaving open the chance to evict Shane. But now Shane has the Power of Veto after Saturday's win which changes things. You and I know what we'd do in that situation. We'd save ourselves and no one could blame you for doing it. But now there's a chance that might not be what happens this week.
There are three scenarios: Shane uses the Veto and Danielle goes up, Shane uses the Veto and Dan goes up, or Shane doesn't use the Veto and stays on the block.
Flashback to 2:17AM BBT on 9/9 to hear Dan rattle that list off to Shane and Danielle. Shane responds to Dan, "I just don't want you guys to pull a Marcellas." Dan chuckles but Danielle says she doesn't know what that means and if she did know then she's doing a great job of covering it. Shane tells her that Boogie explained the legend of Marcellas and the ill-fated Veto to him. The short story: Marcellas was on the block, didn't use the Veto, was evicted by a tie-breaker. That was 10 years ago and people still talk about it. If you've never seen it then definitely watch the video below.
Now that we know Shane is aware of the potential worst-case scenario I'd say the chances of Shane not using the Veto are low. Compounding the issue is Shane and Danielle's absence from the house for the better part of Sunday (luxury prize). Dan's "mist" is proximity based and can't work if he can't get within audible range of his victims. It's a shame too. Nothing against Shane. I liked the guy a lot when I met with him for our preseason interview, but it's been a decade since we saw that moment on BB3 and the desire to witness a repeat of such a legendary moment is undeniable.
The more likely scenario is for Shane to come down and Danielle to go up in his place. I won't be floored if it's Dan, but I think we'll see Danielle up there. If that happens then I'll expect Jenn to go on Tuesday's surprise eviction which we'll watch on Wednesday.
What do you think Shane will do with the Veto this afternoon?