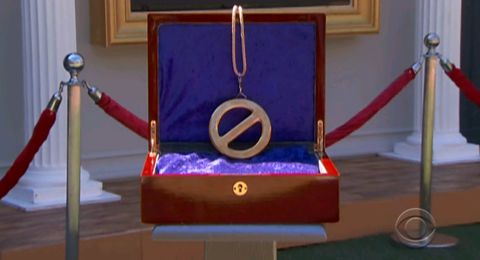 This week's Big Brother 14 Power of Veto ceremony has been held and the results are in on the Live Feeds. The pressure was high this week and the decision made will obviously have a big impact on the upcoming special eviction episode this Wednesday. Read on to find out if the Veto was used and who are the latest nominations.
Shane wisely decided to use the Veto and avoid a potential Marcellas scenario. Smart move. Ian had warned Danielle before the ceremony that if that happened then she would be the one to go up on the block. Looks like Dan has dodged another bullet as Ian did exactly that at the Veto meeting today.
When the Live Feeds returned Jenn had Ian cornered in the Lounge room and she was not happy. Ian wasn't terribly encouraging to her cause and isn't voicing much support as she interrogates him on the choice he just made. Check it out on Flashback.
Big Brother Live Feed Flashback time:
September 10, 2012 @ 11:52 AM BBT on all Cams
Uncensored Live Feeds Free 3-Day Trial – Sign-up Now
Right now Danielle and Jenn are on the block. One of them will be evicted during the surprise episode on Tuesday and aired on Wednesday night. If things go as planned it'll be Jenn walking out the door.
Did Shane make the right choice? What about Ian? Who would you send to jury?