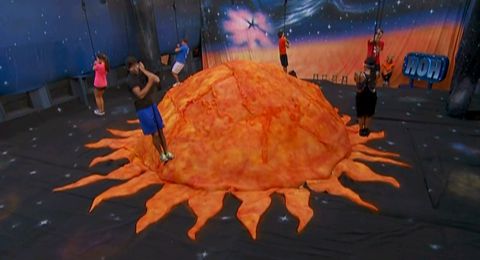 Here we go! It's time for a new Big Brother 14 Endurance HoH Competition! We just saw tonight's eviction so it's time to crown a new HoH.
So here's the deal: if you want to watch this competition live as it happens then you have to have your Big Brother Feeds up and running. If you don't have the feeds then this is exactly when you need to sign-up with the free trial and see how they work. You'll be able to watch everything live and uncut as it happens!
Click Here to Get the Big Brother Live Feed Free Trial
Big Brother 14 Week 8 HoH Endurance Comp Results:
6:55 PM BBT – HGs are up on their platforms and getting started.
6:57 PM BBT – Joe is down when BB came back from commercials.
6:59 PM BBT – Jenn is struck by a giant, um, space penis? She's knocked down.
7:00 PM BBT – Waiting for the Live Feeds to return.
7:09 PM BBT – Live Feeds are back. 4 HGs remain!
7:10 PM BBT – Danielle is squatting on her platform. Rest are standing.
7:15 PM BBT – 4 HGs remain. Good spirits all around.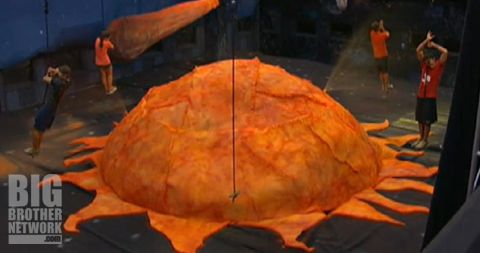 7:20 PM BBT – Mostly quiet. Shane squatting now while Danielle stands.
7:25 PM BBT – Joe asks who has 6 hours in them. Dan says he has 12.
7:27 PM BBT – Danielle drops after she says she's going to puke.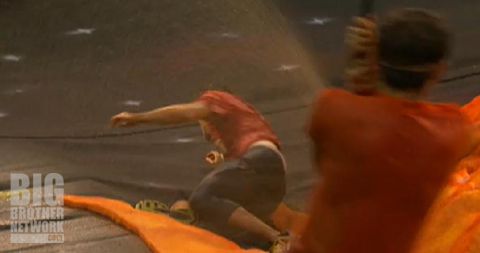 7:29 PM BBT – Dan drops out of the blue. It's either Shane or Ian wins.
7:35 PM BBT – Shane asking Ian to calculate the centrifugal force on them.
7:40 PM BBT – Shane asks Ian how he's doing. Ian says he's just fine.
7:42 PM BBT – Shane is grunting. Ian seems to be okay.
7:45 PM BBT – Shane says his foot is on fire. Ian has no problems.
7:50 PM BBT – Ian telling everyone he's doing just fine. I believe him.
7:55 PM BBT – Dropped HGs explaining why each fell.
8:00 PM BBT – HGs calling that giant object a meteor. It's back at them.
8:05 PM BBT – If anything takes down Ian it could be the meteor.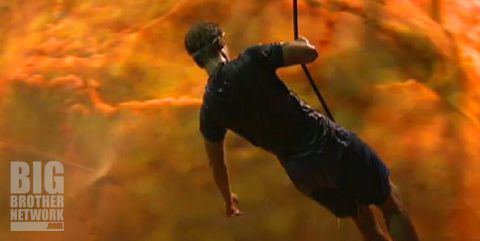 8:10 PM BBT – Less grunting from Shane, but he's back to squatting.
8:15 PM BBT – Shane apologizes for bouncing the rigging as he shifts.
8:20 PM BBT – Ian and Shane both holding on and chatting away.
8:25 PM BBT – All is steady. Still seems like Ian's comp to lose.
8:30 PM BBT – Fallen HGs watch as Ian & Shane press on. Both steady.
8:35 PM BBT – Shane is pushing back the meteor when he passes by it.
8:40 PM BBT – Ian says he wants to win so he can have privacy for, ahem.
8:45 PM BBT – Shane asks how Ian is doing. Both say they're doing well.
8:47 PM BBT – Shane asks downed HGs for some privacy. They go inside.
8:48 PM BBT – Ian confirms Shane & Dani's safety all week. Shane drops.
Grab your Live Feeds Free Trial right now to watch what happens next.
Congrats to Ian. He's the new Head of Household! He promised Shane safety from noms and renoms for him and Danielle this week.
Since Joe was the first to drop he gets a punishment. He'll be doing 24 hours of "Hula Hoop Bootcamp." We shall see what that means.
Click here to start your Free 3-Day Trial of Big Brother Live Feeds!
After tonight's competition is over you can watch as the new HoH plots his nominations for Friday's reveal and then Saturday's Power of Veto competition.